(CNN) -- A visibly battered Wisconsin mayor recounted Wednesday how he was beaten with a pipe after he attempted to help a screaming woman outside the state fair.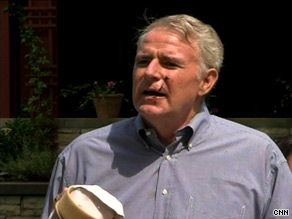 Milwaukee Mayor Tom Barrett says the attack on him, "got very, very ugly, very, very quickly."
"I think it's fair to say that things got very, very ugly, very, very quickly," said Milwaukee Mayor Tom Barrett, speaking to reporters gathered outside his home.
Barrett wore a cast on his fractured right hand. A cut on his face ran from his left cheek to just below his lips.
He said the beating occurred on Saturday, after he left the Wisconsin State Fair in West Allis with his family. The Barretts were walking down the street toward their car, he said, Barrett said, when they heard a woman screaming for someone to call 911. She was holding a baby, Barrett said, and he initially thought the baby was hurt. He grabbed his phone to call for help.

Watch the mayor describe the attack »
"Within seconds we realized the problem was not with the baby, it was with the man," Barrett said. "And he came up and was very, very agitated. And events took off very, very quickly."
Police arrested Anthony Peters, 20, on Sunday, a day after they say he attacked the woman and then charged at Barrett and attacked him with a metal pipe. Peters has not yet been charged.
Barrett said he also suffered cuts to the top and back of his head and has a sore mouth. He would not elaborate on the attack because of the pending criminal case.
West Allis Police Chief Michael Jungbluth said the attack on the woman stemmed from a domestic situation, in which an intoxicated Peters wanted to see his year-old daughter, and had threatened to shoot himself and others. For Barrett, the incident highlighted the "explosive issue" of domestic violence, he said.

Barrett described reports that the suspect's family blames Barrett for the arrest as "pretty bizarre." But he added, "Maybe it's important that a mother's love is blind, and maybe a mother's love should be blind."
The mayor's security personnel were not with him because his attendance at the state fair was "a spur of the moment decision," Barrett said, adding that he had wanted to listen to music and spend time with his family.
E-mail to a friend

All About Criminal Assault • Milwaukee