By Richard Benson
CNN





(CNN) -- A grand jury in northern California on Monday indicted a former Sunday school teacher on charges of kidnapping, murder and rape in the death of an 8-year-old girl.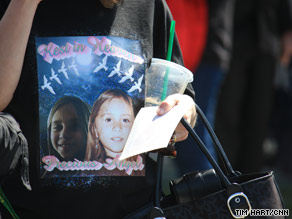 Sandra Cantu's body was found in a suitcase in an irrigation pond near where she lived.
Melissa Huckaby, 28, is accused of killing 8-year-old Sandra Cantu, who disappeared on March 27 in Tracy, California. Her body was found April 6 in a suitcase in an irrigation pond near the mobile home park where her family lived. Huckaby and her daughter, who played with Sandra, also lived in the mobile home park.
San Francisco Chronicle reporter Henry Lee, who was in the courtroom in San Joaquin County on Monday as the indictment was read, told CNN:
"Melissa began weeping as the judge read the charges of murder and rape aloud. ... She was shackled and wore a red jail jumpsuit. Otherwise, she said nothing."
The grand jury heard two weeks of testimony.
In June, Huckaby pleaded not guilty to all charges.
The judge scheduled her next court appearance for September 10, giving her attorney time to review the indictment. No trial date has been set.
The rape accusations, involving special circumstances, are "grotesque to think of," Lee said.
Prosecutors will take about two more months to decide whether to seek the death penalty, because of the special circumstances.
Huckaby appeared in court with several fresh scratches on her forehead, according to Lee. She remains in the San Joaquin County Jail without bail, according to CNN affiliate KCRA.
"There were reports she tried to commit suicide in her jail cell. ... She has previously tried to commit suicide by means of swallowing razor blades," Lee added.
E-mail to a friend

All About San Francisco Chronicle • San Joaquin County Jail