From Mike Ahlers
CNN





RALEIGH, North Carolina (CNN) -- A federal judge ruled Wednesday that six men accused of plotting terrorist attacks overseas should remain in custody pending trial, but he expressed skepticism about the charges against them.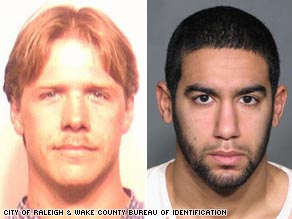 Daniel Patrick Boyd, left, and Mohammad Omar Aly Hassan are two of the seven men charged.
Magistrate Judge William Webb said the defendants had made a number of statements espousing holy war that could be interpreted in isolation as empty boasting.
But because some of the members of the group had amassed a large arsenal and ammunition and had engaged in firearms training, Webb found there was reason to believe that they harbored criminal intent and presented a flight risk or a possible danger to the community.
The six suspects displayed no outward emotion to the ruling. But one uttered "Peace be on you" in Arabic to well-wishers as they were led in handcuffs and chains from the courtroom.
A hearing for a seventh suspect was postponed Wednesday because he was appointed a new attorney. All seven face charges of supporting terrorism and conspiracy to commit murder abroad.
An eighth suspect has not yet been arrested, and is believed to be in Pakistan, federal authorities say.
The men were arrested on suspicion of plotting a "violent jihad" overseas, investigators said. Agents found weapons, thousands of rounds of ammunition and $13,000 cash in the Raleigh-area home of the alleged ringleader, an FBI agent testified.
Webb said the government's case depended partly on an "unnamed, unidentified and uncharacterized" witness who had interpreted what the government said was coded speech by the suspected terrorists.
The government says, for example, that one defendant's statement about "going to the beach" meant he intended to conduct violent jihad.
"You're asking me to believe 'beach' is the functional equivalent of 'jihad,'" Webb said.
Officials identified three of the men as U.S. native Daniel Patrick Boyd, 39; and his sons Dylan Boyd, 22, also known as "Mohammed," and Zakariya Boyd, 20.
The four others are: Mohammad Omar Aly Hassan, also a U.S.-born citizen; Hysen Sherifi, identified as a native of Kosovo who is a legal permanent resident of the United States; Ziyad Yaghi and Anes Subasic, both naturalized U.S. citizens.
Defense attorneys for several of the suspects sought Wednesday to distance them from Boyd, the alleged ringleader, or to say their clients had ties to the community that made them unlikely to be flight risks.
Most asked that their clients be released into home detention, although the attorney for Yaghi acknowledged that was unlikely for him because he had failed to appear at an unrelated court hearing in Texas.
During a search last week, investigators found gas masks and a book that FBI special agent Michael Sutton called "essentially our playbook to how we respond to acts of terrorism."
"I think all of them are a risk of flight, your honor," Sutton testified in a hearing Tuesday, noting allegations that all the defendants had traveled overseas.
Sabrina Boyd -- the wife of Daniel Patrick Boyd and the mother of the two younger Boyds -- said last week the allegations against her family are false.
"I know that my husband and my sons are free of guilt," she told CNN July 28, when they were arrested. "I'm hopeful that the truth will come to light."
Sutton testified Tuesday that Daniel and Dylan Boyd were arrested in Durham, North Carolina. Both were carrying weapons, and had permits to do so.
The arresting agent told Sutton that Daniel Boyd attempted "to acquire his side arm," and that Dylan Boyd "failed to comply with their instruction and had to be subdued." In a later interview, Boyd told Sutton he had not gone for his gun.
Five surreptitiously recorded audio tapes were played in the hearing Tuesday, along with a cell phone video showing someone firing an AK-47.
On a tape made in May 2009, the elder Boyd talks about getting the money needed to wage jihad and hitting Wells Fargo trucks and banks. He makes reference to how he had robbed a bank in Pakistan.
In the search of the Boyd home the FBI says agents found:
• Several weapons
• 27,000 rounds of ammunition, including some armor-piercing types
• $13,000 in cash. In addition, Dylan Boyd had a deposit slip for $16,000.
• 4 gas masks
• A book called "Emergency Response to Terrorism," which Sutton said would be useful to someone trying to counter law enforcement.
• A document described as a fatwa (Muslim religious edict) of jihad (holy war) against America. It includes the assertion that the killing of Americans and their allies "is an individual duty for every Muslim."
• An old ID card. Sutton said an FBI linguist says it reads "monotheism, jihad and power. ... No God but God. Mohammed is his messenger." On the flip side it says that the carrier is allowed into a certain house alone but should surrender the card when leaving.
They also found a trench under the deck of the house, which a witness told the FBI was a bunker to store and conceal weapons, and a plywood plank placed in a tree so that someone sitting there could see anyone approaching the house, according to Sutton.
The indictment against the men makes no reference to a direct threat to individuals or property in the United States, but said the men had practiced military tactics in a North Carolina county that borders Virginia.
E-mail to a friend

All About North Carolina • Terrorism