By CNN Senior International Correspondent Nic Robertson and Paul Cruickshank





Editor's note: This story is based on interrogation reports that form part of the prosecution case in the forthcoming trial of six Belgian citizens charged with participation in a terrorist group. Versions of those documents were obtained by CNN from the defense attorney of one of those suspects. The statement by Bryant Vinas was compiled from an interview he gave Belgian prosecutors in March 2009 in New York and was confirmed by U.S. prosecutors as authentic. The statement by Walid Othmani was given to French investigators and was authenticated by Belgian prosecutors.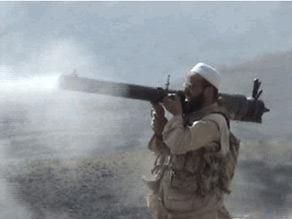 A photo purports to show Moez Garsallaoui firing a rocket launcher on the Afghanistan-Pakistan border.
(CNN) -- An American who says he went to fight U.S. forces in Afghanistan told interrogators that about the time he became an al Qaeda member he came across several Belgian and French militants.
Belgian counter-terrorism sources said the group traveled to Pakistan's tribal areas at the beginning of 2008, also intent on fighting in Afghanistan.
The Europeans -- four Belgians and two French citizens, all of North African descent -- were recruited, Belgian police say, by Malika el Aroud and Moez Garsallaoui, a married couple who had long enjoyed a notorious reputation among European counter-terrorism services.
El Aroud's previous husband, Abdessattar Dahmane, had assassinated Ahmed Shah Massoud, the head of the anti-Taliban Northern Alliance, in a suicide bombing attack ordered by Osama bin Laden two days before 9/11.
When CNN interviewed the couple in 2006, El Aroud showed how she administered a pro-al Qaeda Web forum called Minbar SOS, which included pro-al Qaeda postings and propaganda videos. Read how al Qaeda is now operating
Belgian investigators say the Web site played an important role in the radicalization of members of the French-Belgian group.
One of them was a 25-year-old Frenchman, Walid Othmani. He was arrested on his return to Europe from Pakistan and is now in French custody. Belgian prosecutors told CNN Othmani has been charged in France with participation in a criminal conspiracy with the aim of preparing a terrorist act.
"I don't think I would have left to fight jihad without viewing these videos [on Minbar] ... it made me aware that the European media were hiding things about the situation in Palestine, Iraq and Afghanistan," Othmani told French interrogators, according to Belgian legal documents obtained by CNN.
According to Belgian counter-terrorism officials, Garsallaoui, a Tunisian citizen, recruited some of those who traveled to Pakistan in person in Brussels but relied on the Internet to recruit others.
The six recruits from Belgium and France met Garsallaoui in Istanbul in December 2007. With Garsallaoui setting off first, they followed him towards Pakistan, paying off a series of people-smugglers between Turkey, Iran and Pakistan, to gain entry to al Qaeda's heartlands in the mountains of Waziristan.
The American, Bryant Vinas, says he met with at least three members of this group in Waziristan: its leader Moez Garsallaoui, a French citizen Hamza el Alami, and Hicham Bouhali Zrioul, a Belgian-Moroccan who once worked as a taxi driver in Brussels.
All three are believed by Belgian intelligence officials to be at large in the mountainous area along the Pakistan/Afghan border.
Three other members -- Hicham Beyayo, Ali El Ghanouti and Said Harrizi -- were arrested when they returned to Belgium and have been charged with participation in a terrorist group. They don't dispute they went to fight jihad, but they do deny participating in a terrorist group.
Othmani, one of the French recruits, stated the group were given explosives training and taught how to fire rocket launchers and RPGs.
Othmani stated his group was required to pledge absolute obedience to their handlers and indicate whether they wanted to become suicide bombers.
He provided interesting new details about the training facilities being used by al Qaeda in the tribal areas. Read how al Qaeda training is adapting
His group trained in a small mountain shack, a far cry from the large camps al Qaeda had run in Taliban-era Afghanistan, when it had been able to operate with little danger of being targeted by military strikes.
Vinas says he took a course in propelled weaponry with Zrioul, who became a friend. In the summer of 2008, Vinas and Zrioul lived in the same house in the mountains of Waziristan.
In June 2008 Garsallaoui wrote an e-mail to his wife in Belgium, intercepted by U.S. counter-terrorism agencies, in which he claimed to have killed several Americans in Afghanistan, according to Belgian legal documents.
Walid Othmani said that in July 2008 Garsallaoui told him he had killed Americans by firing rockets at an American combat outpost from Pakistan, according to the documents. As he was not specific about the date, CNN has not been able to substantiate the claim.

Garsallaoui's list of enemies does not seem to have been limited to U.S. troops in Afghanistan however. On May 11, he issued this threat to Belgium authorities on his wife's Web site. "If you thought that you could pressure me to slow down through the arrest of my wife, you were wrong. It won't stop me fulfilling my objectives...the place of my wife in my heart and the heart of all the mujahedeen is greater than ever. ... Surprises are sure to be in store for you in the days ahead. Those who laugh last, laugh more."
Such threats will have caused concern because of Garsallaoui's wide connections in European militant circles. Read how Western targets remain al Qaeda's priority
E-mail to a friend