(CNN) -- An Arkansas man was arrested Monday in connection with a shooting at a Little Rock military recruiting center that killed one soldier and wounded another, authorities said.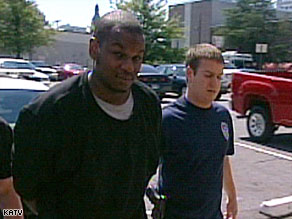 Police identified the suspect as Abdulhakim Mujahid Muhammad, formerly known as Carlos Bledsoe.
Abdulhakim Mujahid Muhammad -- a 24-year-old Little Rock resident formerly known as Carlos Bledsoe -- faces a first-degree murder charge and 15 counts of engaging in a terrorist act, Little Rock Police Chief Stuart Thomas said. The terrorist counts stem from the shots fired at an occupied building.
While authorities continued to investigate a motive, Thomas said Muhammad is a Muslim convert and, based on preliminary interviews with him, investigators believe there were "political and religious motives" in the shooting.
Military officials initially believed the shooting was a random act, but Thomas said police believe the shooter acted alone "with the specific purpose of targeting military personnel."
The soldier who was killed was identified as Pvt. William Long, 24, of Conway, and the wounded soldier is Pvt. Quinton Ezeagwula, 18, of Jacksonville, Thomas said.
Ezeagwula is in stable condition and expected to recover, the police chief said.
"I'm relieved there's a suspect in custody," said Capt. Matthew Feehan, commander of the center.
Feehan said seven other recruiters were in the building, but nobody else was injured.
Thomas said police recovered three guns from Muhammad's black Ford SUV: an SKS semi-automatic rifle, a .22-caliber rifle and a pistol.
The victims were just out of basic training and had not been deployed, said Lt. Col. Thomas F. Artis, commander of the Oklahoma recruiting battalion that oversees the Little Rock recruiting center.
Melvin Bledsoe of Memphis, Tennesee , who was listed on the police report as Muhammad's father, declined to comment, referring questions to Little Rock Police.

The soldiers were part of a recruiting program called "hometown recruiting assistance," Artis said. Under the program, recruiters have the soldiers tell their stories to potential recruits. It's a volunteer position taken while soldiers are visiting or based back in their home region, Artis said.
The FBI has opened an investigation into the incident, said Steven Frazier, spokesman for the agency's Little Rock office. "Based on what we find, we will determine whether there is any federal jurisdiction to prosecute," he said.
E-mail to a friend

CNN's Mike Phelan, Mike Mount and Terry Frieden contributed to this report.
All About Police • Little Rock • Shootings • Federal Bureau of Investigation