By Eliott C. McLaughlin
CNN





PHOENIX, Arizona (CNN) -- Malcom Stanley and Jami Harris walk their schnoodle pup, BJ, every day down West Alvarado Road, a sleepy strip of modest stucco homes, many with terra cotta tile roofs.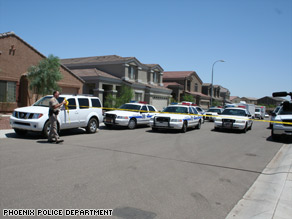 Phoenix police raided a drop house for human smugglers in a middle-class neighborhood in July.
A block over, on West Cypress Street, where similar homes are situated on tenth-acre lots, a suspected drug dealer died in a hail of bullets last year.
Several armed men, wearing knock-off Phoenix Police Department raid shirts over their body armor, kicked in the door of his home. Within minutes, more than 120 rounds of ammunition were fired, police said.
The soon-to-be-wed Stanley, 22, and Harris, 32, moved into their home after the June incident, but hadn't heard about it and were surprised that a drug-related killing unfolded about 250 feet away.

Watch why Phoenix is the hotspot »
"Everybody pretty much keeps to themselves," Stanley said of the neighborhood, adding that the area is "pretty quiet, no loud music, no traffic."
Average citizens are rarely ensnared in the city's drug violence, Phoenix police said. Talk to folks around town, and indeed, most seem unaware or unfazed.

See Phoenix's kidnapping stats »
Bartenders at a downtown sports bar said they walk female employees to their cars after dark, but just as a matter of courtesy, not out of any real sense of danger.
Jovan Timmon, 31, who lives on the same west Phoenix block where a recent kidnapping occurred, said he recalled some commotion a few days prior -- a helicopter hovering overhead and police cars speeding by -- but he had no idea there had been an abduction.

Watch how violence hit Timmon's neighborhood »
Timmon said he is not naive about the violence seeping from Mexico into Arizona -- "It's a border state. That's just the bottom line. Anything can happen" -- but the Detroit, Michigan, transplant said he has never feared for his wife or young daughter's safety.
"It's like a little paradise for us, so we're cool," Timmon said of the neighborhood he moved into about a year ago.
Robert and Maria Fatigoni are also charmed by the middle-class neighborhood they've lived in since 2003. The couple spoke just before dusk on an April evening as eight children scrambled around a jungle gym a half block away. Another half dozen children played in the street, one flying his kite in a cul-de-sac.
The neighborhood is safe, Robert Fatigoni explained, pointing to the children as evidence, but there was a time when he and his wife felt their next-door neighbors were suspicious.

Watch who the violence affects »
Maybe they were drug dealers, the couple thought in 2006, before deciding that drug dealers probably wouldn't have so many women and children coming to their house.
They learned that the tan stucco dwelling next door was a makeshift torture chamber when police raided the house after receiving a tip that Jaime Andrade, a human smuggler, was held and brutally tortured there for almost three days.
They recalled their shock when the then-owner explained what the tenants had been doing in the house and gave them a post-raid tour.
"It smelled in there like rotten death," Robert Fatigoni said as his 5-year-old daughter played in the yard.
Maria Fatigoni, who said she is not easily disgusted, was shocked and scared to see the pools of blood, bloody handprints on the wall and a "Santa Muerte" -- a depiction of the Virgin Mary as a cloaked skeleton -- on the vaulted ceiling in the master bedroom.
Maria Fatigoni was staying home with her daughter at the time and was frightened to think that such savagery was happening next door, she said.
"I was just glad they didn't do anything to us," she said. "It gave me chills, and I thought of the people that were in there and I felt sorry for them."
Though there have been cases of innocent victims caught in the violence, the instances are rare and police confidently say average citizens are safe.

See how the kidnappings unfold »
"If you're a drug dealer or you're a coyote, yeah, you might have some issues if you're hanging out in a place you shouldn't be hanging out, but if you're a normal citizen, you are not going to get abducted off the street. That is not going to happen," said Sgt. Phil Roberts of Phoenix's Home Invasion and Kidnapping Enforcement team.
He and other officers warn against residents being apathetic about the violence.
His colleague, Sgt. Tommy Thompson, who has 16 years of drug enforcement experience, said Phoenix police don't want to make the same mistake Mexican authorities made in the 1990s.
"Our law enforcement counterparts in Mexico told us that about 10 to 15 years ago they were very content to say this is criminal versus criminal," Thompson said. "However, as those criminal organizations became very adept at kidnapping other criminals, then they transitioned over into legitimate victims -- those that own shops, those that were businesspeople, those that have the availability to come up with the money."

The same could happen in the United States, Roberts warned.
"If you close your eyes to this and say, 'They're illegal aliens and I don't care about it' -- potentially, that's how it spills over into the general public," he said.
E-mail to a friend

All About Phoenix Police Department • Phoenix (Arizona) • Drug Trafficking • Kidnapping