By Emanuella Grinberg
CNN





(CNN) -- Former death row inmate Paul House woke to laughter and cries of joy from his mother on Tuesday, the day he learned he was a free man.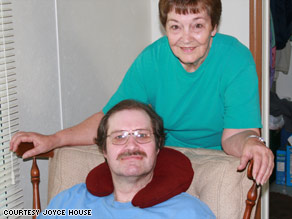 Former death row inmate Paul House and his mother, Joyce, in her Crossville, Tennessee, home.
"You've been exonerated," his mother, Joyce House, told him, shaking him awake.
"Took 'em long enough," he replied, after taking a moment to process the information.
House, 47, spent 22 years on Tennessee death row for the rape and murder of his neighbor, Carolyn Muncey, in 1985. He left prison last year and was placed under house arrest after the U.S. Supreme Court ruled that new DNA evidence could have led a jury to acquit him.
He was scheduled to be retried next month when Union County District Attorney Paul Phillips announced Tuesday that he filed a petition to drop all charges against House. In the petition, Phillips said he still believes House was involved in Muncey's death, but acknowledged the DNA evidence presented significant reasonable doubt.
His mother received the news Tuesday morning in a phone call from an assistant to her son's lawyer.
"At first, I couldn't believe it, but my mom wouldn't lie to me," House said in a telephone interview from their home in Crossville, Tennessee. "I didn't know what to think, there were so many times I thought they'd given up on me."

House cleared of murder »
His mother says the news didn't come as a huge surprise, after several DNA tests failed to match his DNA to samples found under Muncey's fingernails and on her clothes.
"They say the wheels of justice turn mighty slow, but for them to turn this slow is ridiculous," she said.
Her son also remains unimpressed with the justice system.
"I never had any real feelings about the justice system until these idiots got a hold of me, and now it's very low," he said. "I can tell you truthfully that there's nothing I miss about prison."
Don't Miss
District Attorney Paul Phillips wrote in his petition this week that he still believes House could have been convicted again in a new trial, "but the new evidence (including the forensic examinations) raises a reasonable doubt that he acted alone and the possibility that others were involved in the crime."
But Phillips noted the "substantial sentence" House has served as another reason for the charges being dropped now.
The former death row inmate, who suffers from multiple sclerosis, moved in with his mother in July, after he was released on bail. His time out of prison appears to have buoyed his health. His mother says talking to him has helped sharpen his mind, and he now thinks faster and talks clearer than he did back in July.
Yet his condition keeps his body confined to a wheelchair and his aspirations relatively modest. When he learned about his exoneration, his first concern was when he could remove the ankle bracelet that monitored him under house arrest, he says.
Next up, he says he is looking forward to visiting his grandfather in California, who will celebrate his 90th birthday this summer.
"I guess all I want to do is go out and see my grandpa, mom's dad," House said, giggling. "Grandpa's all right, I was named after him."
He and his mother will make the cross-country drive in June to see his grandfather, who he last saw 10 years ago in a prison visit. The group will also stop in Arkansas to visit the grave of House's grandmother, who died while he was in prison.
His exoneration also frees his mother, who had to make sure someone was in the home with him at all times, as part of the terms of his house arrest.
"It was like we were both in prison," she said. "To go to the grocery store or get a haircut, I had to call someone, but the grocery store's 5 minutes away. The hardest thing was to call someone for 15 minutes. I felt like I was cutting into their day."

Otherwise, House says his routine of watching his favorite game show, The Weakest Link, and eating his mother's delicious chili verde will remain mostly unchanged.
"This gives me a life. The only life I had was prison life, and that was nothing to be happy about."
E-mail to a friend

CNN Supreme Court Producer Bill Mears contributed to this report.
All About Capital Punishment • Criminal Sentencing and Punishment • Multiple Sclerosis • Tennessee