(CNN) -- A medical student accused of killing a masseuse in a Boston, Massachusetts, hotel room will be charged in a hotel assault in Rhode Island, the state attorney general said Monday.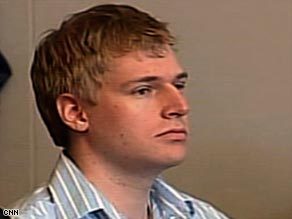 Accused "Craigslist killer" Phillip Markoff is now facing additional charges in Rhode Island.
Police said the attacker in both cases apparently responded to the victims' listings on the Craigslist online classified ad site.
Philip Markoff, 23, will be charged with assault with the intent to rob, assault with a dangerous weapon, possession of a handgun and use of a firearm while committing a crime of violence, said Rhode Island Attorney General Patrick Lynch.
The charges stem from an April 16 robbery attempt at a Holiday Inn Express in Warwick, Rhode Island.

Watch why Rhode Island officials issued an arrest warrant »
Markoff, a second-year student at Boston University's School of Medicine, previously was charged with killing Julissa Brisman on April 14 at a Boston hotel. Police said Brisman, a New York resident, was a model who advertised as a masseuse on Craigslist.
Prosecutors say she was shot three times at close range and suffered blunt head trauma.
Don't Miss
Markoff also has been charged in connection with an April 10 robbery of a woman at another hotel in Boston. She was robbed of $800 in cash and $250 in American Express gift cards, according to police reports.

Watch report on Markoff's alleged gambling problem, underwear collection »
The incident also is linked to a Craigslist ad, police said.
Markoff pleaded not guilty in the April 14 and April 10 incidents and is being held without bail.

Lynch called the Rhode Island case a "very stark, difficult, horrific reminder that there are predators out there; there are bad people out there," and called for new Internet safety measures.
Markoff's attorney, John Salsburg, did not respond to requests from CNN for comment.
E-mail to a friend

All About Craigslist Inc.