(CNN) -- The mother of a 25-year-old woman killed in a Boston hotel more than a week ago said Friday that she will remain haunted by her daughter's death for the rest of her life.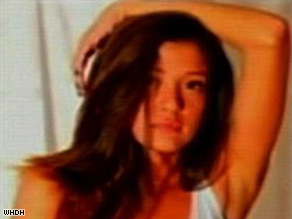 The mother of Julissa Brisman says she remains haunted by her daughter's death.
"Our family has been devastated by the loss of our beautiful daughter, Julissa," Carmen Guzman said in a statement released Friday, which would have been Julissa Brisman's 26th birthday.
"The feeling of losing my daughter in this way and the pain she must have felt will haunt me for the rest of my life," Guzman said. "She won't live to see her dreams. We will hold Julissa in our hearts every day."
Philip Markoff, 23, a second-year student at Boston University's School of Medicine, is charged with killing Brisman on April 14 at Boston's Copley Marriott Hotel.
Police have said that Brisman, a model from New York, advertised as a masseuse on the online classifieds Web site Craigslist. They say Markoff may have met her through the online site.
Prosecutors say Brisman sustained blunt head trauma, and said she was shot three times at close range. One of the bullets passed through her heart, killing her, prosecutors said.
Markoff, who was arraigned Tuesday, is being held without bail. His attorney, John Salsberg, told reporters after the hearing that Markoff is "not guilty of the charges. He has his family's support. I have not received any document or report or piece of evidence other than what I heard in the courtroom. All I have at the moment are words -- no proof of anything."
Don't Miss
A procedural not-guilty plea was entered on Markoff's behalf, according to Suffolk County District Attorney Daniel Conley.
Markoff is also charged in connection with the April 10 robbery of Trisha Leffler, 29, at a Westin Hotel in Boston.
Leffler was robbed of $800 in cash and $250 in American Express giftcards, according to police reports. She was held at gunpoint and bound, prosecutors said.
Megan McAllister, who identified herself as Markoff's fiancee, maintained his innocence in an e-mail sent to ABC News. McAllister said Markoff "is the wrong man" and "was set up."
"Unfortunately, you were given wrong information as was the public," she wrote. "All I have to say to you is Philip is a beautiful person inside and out and could not hurt a fly!"
Authorities believe the motive in Brisman's death was robbery, Conley told reporters. In executing a search warrant at Markoff's home, police found a firearm, along with restraints and duct tape, he said.
Authorities in Boston are working with police in Warwick, Rhode Island, on what could be a related case. On April 16 at a Holiday Inn Express in Warwick, a man tied up and demanded money from a 26-year-old dancer who had posted a Craigslist advertisement, Warwick Police Chief Col. Stephen McCartney said.
The robbery was interrupted when the woman's husband entered the room. After pointing his gun at the husband, the suspect fled, McCartney said. He said the incident "may be related to similar crimes occurring in the Boston area" but that had not been determined.
E-mail to a friend

All About Craigslist Inc. • Boston Police Department