(CNN) -- A man who shot his wife and three children to death before committing suicide in Middletown, Maryland, last weekend had about $460,000 in mortgage and credit card debt, the local sheriff said Tuesday.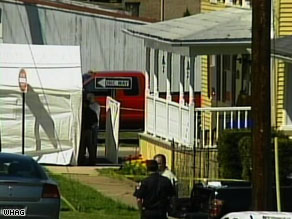 Five people, including three young children, were found dead in this house in Middletown, Maryland.
Deputies who examined a computer taken from Christopher Wood's home found information that showed "severe financial difficulties," including money owed on a home in Florida that the family had been unable to sell, Frederick County Sheriff Charles Jenkins said at a news conference.
Wood was a salesman for CSX Railroad, where he earned about $97,000 a year, the sheriff said.
He left six suicide notes, according to authorities.
Jenkins said the medical examiner had determined that Christopher Wood, 34, shot himself with a shotgun Friday after shooting his wife, Francie Billotti-Wood, and their three young children -- Chandler, 5; Gavin, 4; and Fiona, 2 -- with a small-caliber pistol.
"Traumatic lacerations" found on the bodies were made after their deaths, with either a kitchen knife or a pruning saw, the sheriff said, quoting the medical examiner. Both items were found in the house.
"The injuries were very horrific," the sheriff said.
Don't Miss
The wife and children apparently were killed while they slept Thursday night into Friday, Jenkins said.
Authorities found a shotgun next to Christopher Wood's body and a .25-caliber handgun in a container in the kitchen. Sheriff's Office Cpl. Jennifer Bailey said Tuesday it was not yet known whether the handgun found was used in the killings.
The federal Alcohol, Tobacco, Firearms and Explosives agency was trying to trace the ownership of the pistol and shotgun.
Authorities said Wood left individual suicide notes to his wife and each of the three children, expressing his sorrow and love. There was one note left to his mother, father and sister, and one more that was not addressed to anyone in particular but that was more apologetic than the others.
In his sixth note, Wood described his "day-to-day stresses," Bailey said.
"That one talks about financial problems, how he was going to raise his family, stresses, how he tried a number of medications to control his depression, but felt he had gotten worse over time," Bailey said.
Jenkins said several medications were found in the house, including some used to treat depression and anxiety.
Bailey said deputies went to the house shortly after 9 a.m. Saturday, after Francie Billotti-Wood's father found the bodies. Her father, concerned because he had not seen members of the family for about a day, had gone to the house and forced his way in when no one answered the door.

Jenkins said the sheriff's office had no record of domestic violence or other family disputes at the Woods' home.
He said the results of toxicology tests won't be available for a few weeks.
E-mail to a friend

All About Murder and Homicide