By Jim Spellman
CNN





GREELEY, Colorado (CNN) -- It started as a tryst, arranged online, in a quiet town in the shadow of the Rocky Mountains. She was an 18-year-old transgender woman. He was a 32-year-old rough-and-tumble gang member.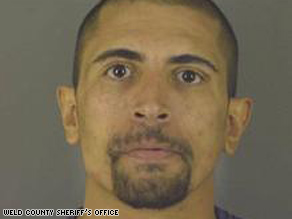 Allen Andrade is on trial for the slaying of an 18-year-old transgender woman.
It ended in homicide.
Opening statements began Thursday in the trial of Allen Andrade, accused of murdering Justin "Angie" Zapata.
Andrade also has been charged with a bias-motivated crime.
Zapata was 18 in the summer of 2008 when prosecutors say she met Andrade, then 32, on the popular online networking site MocoSpace.
According to a police affidavit, the two arranged to meet, and Zapata brought Andrade to her apartment in Greeley, Colorado, where they spent two days together. During that time, according to the affidavit, Andrade says Zapata performed oral sex on him. When Zapata was out of the apartment, Andrade noticed photographs of Zapata that made him "question victim Zapata's sex."
When Zapata returned, Andrade confronted her. Zapata declared, "I am all woman." Andrade then grabbed Zapata's crotch and discovered a penis.
What happened next is gruesome.
According to the affidavit, Andrade told police he began hitting Zapata with his fists, knocking her to the ground. He then grabbed a fire extinguisher and hit her in the head two times.
He told police he thought he had "killed it," referring to Zapata, and covered her with a blanket. He then set about trying to clean up the crime scene. While doing this, he heard "gurgling" sounds coming from the victim and saw Zapata sitting up. He hit her again with the fire extinguisher.
This time Zapata was dead.
Don't Miss
Andrade took Zapata's car and fled. Two weeks later, police discovered the car and arrested Andrade.
In his opening statements Thursday, one of Andrade's attorneys, Bradley Martin, told the jury that while Andrade did kill Zapata, it was not premeditated. Instead, Andrade acted in a moment of rage upon discovering that Zapata was transgender.
"He snapped," said Martin, adding that Andrade "flew into an uncontrollable rage."
The defense strategy centers on having the jury ultimately consider a second-degree murder charge, which could result in a shorter sentence.
Martin also urged the jury to reject the bias-motivated crime charge, arguing that Andrade did not become violent because Zapata was transgender but because Andrade felt deceived.
"It's not about a judgment of lifestyle. It's about a deception and the reaction to that deception." Martin said.
Calls to Andrade's public defender for comment have not been returned.
The case has become a rallying point for supporters of the transgender community who have held vigils and launched Web sites in remembrance of Zapata. They are calling for the inclusion of transgender people in hate-crime statutes across the country and at the federal level. Eleven states and the District of Columbia recognize transgender people in their anti-hate crime laws.
Mindy Barton, legal director for the Gay, Lesbian, Bisexual and Transgender Community Center of Colorado, says this has the makings of a landmark case.
"We believe this is the first case of any hate crime law being applied in an anti-transgender murder case," Barton says. "A vicious attack such as this, with the evidence of overkill and excessive brutality, leaves the whole transgender community feeling afraid to live their daily lives."
If convicted of first-degree murder, Andrade will face a mandatory sentence of life in prison without the possibility of parole. The charge of a bias-motivated crime carries only a one- to three-year sentence, but Barton says the length of sentence isn't important.
"It is not the sentence which is important, but the fact that victims, perpetrators and law enforcement officials recognize that such bigotry and hatred will not be tolerated," she says. "That is the important message when there is a charge and a conviction under a hate-crime law."
Court officials in Greeley are preparing for possible protests outside the courthouse. The trial is expected to last about two weeks.
E-mail to a friend