BINGHAMTON, New York (CNN) -- Layla Khalil escaped the bombs that rocked Iraq during three years of insurgent and sectarian warfare, only to be gunned down while trying to learn English in her adopted hometown, family and friends said Sunday.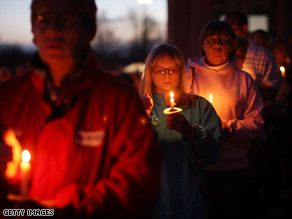 Hundreds took part in a vigil in Binghamton Sunday after an interfaith service for the victims of Friday's shooting.
Khalil, 57, was buried Sunday afternoon, two days after she and 12 others were shot to death Friday at the American Civic Association, an immigrant service center in Binghamton. Before coming to the United States in recent months, she narrowly escaped suicide bombings and a kidnapping in Baghdad, Iraq, where she worked as a librarian.
"The situation in Iraq is dangerous, everywhere dangerous," her 17-year-old son Mustafa told reporters after the funeral. "But we came here, and we hoped we'll get better lives."
He said his mother's death has not changed his feelings about moving to America. But, he said, "The situation has changed. Everything has changed. This is life. You have to expect everything."
"I'm 17 years old. I lose my love, my mother, emotion," he said. "I wish that anyone doesn't lose that."
Also buried Sunday was Parveen Ali, a 26-year-old Pakistani-born woman who was one of the 13 killed. Her brother, Nader, said she was "the base of our family" and a "martyr."

Watch relatives remember one of the other victims, Roberta King »
Victms Identified
Binghamton, New York, officials released a list of the 13 victims in Friday's shooting, with their hometowns and country of origin:
Parveen Ali, 26, Binghamton; Pakistan

Dolores Yigal, 53, Binghamton; the Philippines

Marc Henry Bernard, 44, Endicott, New York; Haiti

Maria Sonia Bernard, 46, Endicott; Haiti

Li Guo, 47, Binghamton; China

Hong Xiu Mao, 35, Greene, New York; China

Lan Ho, 39, Binghamton; Vietnam

Hai Hong Zhong, 54, Endwell, New York; China

Maria Zobniw, 60, Binghamton; United States

Roberta Bobby King, 72, Binghamton; United States

Almir O. Alves, 43, hometown unknown; Brazil

Jiang Ling, 22, Endicott; China

Layla Khalil, 57, Binghamton; Iraq
"There's nothing we can do," he said. "She was an innocent person who got killed for no reason."
Nader Ali said he, his mother, his sister and a brother came to the United States in 2001. His sister became a U.S. citizen and a teacher, so she continued to go to the civic association to improve her language skills.
"She was like a parent. She was like a friend. She was a teacher. She was a facilitator who always pushed me to go through school, to go through college," he said.
Police said they believe Jiverly Wong, a 41-year-old Vietnamese immigrant from an ethnic Chinese family, shot 17 people at the center and then killed himself. Four people were in serious condition in local hospitals but were expected to survive, police said.

View photos from the scene in Binghamton »
Wong had been taking English classes at the association and was upset about recently losing a job, but officials said no clear motive for the killings was immediately evident.
Funerals for Khalil and Ali were held Sunday afternoon at a local mosque. An interfaith memorial service for all the victims was held Sunday evening, and hundreds of people took part in a candlelight vigil afterward.
Khalil was taking English classes at the civic association. Her husband, Samir, a linguist and education professor, said she spoke English well but wanted "to develop, to have a have a lot of progress in the English language and other things, so perhaps she can teach."
Don't Miss

He said that Friday morning, as his wife of 31 years was getting ready to leave, he urged her not to go to the center every day -- but she wanted to make up for time she had missed earlier, and enjoyed interacting with people at the center.
Samir Khalil said the killings don't change "the main core of Binghamton -- its reputation, its people, its hospitality to other people."
E-mail to a friend

All About Binghamton • Shootings
All About Shootings • Binghamton