(CNN) -- Zhanar Tokhtabayeba was in an English class at the American Civic Association in Binghamton, New York, when a gunman entered the building and began shooting.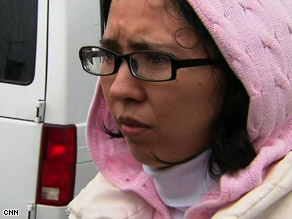 Zhanar Tokhtabayeba, who was taking an English class at the center, says she hid in a closet during the rampage.
The gunman had barricaded the door of the center with his car and nobody could get out.
At first, Tokhtabayeba wasn't sure what was happening.
"I never heard shootings before. I thought someone was joking, maybe, something falling on the floor," she said.
But then she realized the reality of what was unfolding around her.
"I heard shootings, very long time, about five minutes, and I was thinking when it will be stopped, but it was continued. No screaming, yelling ... just silence, shooting, silence, shooting, silence," she said.
Tokhtabayeba, her teacher, who began screaming, and 15 other students ran to hide in the classroom's storage room.
"I was just hiding," Tokhtabayeba said. "I thought that my life was finished."
When it was all over, police said 14 people were dead. A senior law enforcement source with detailed knowledge of the investigation identified the suspect as Jiverly Wong, who is believed to be in his early 40s. Police said he killed himself inside the building.
Like Tokhtabayeba's English class, most of the survivors managed to escape by hiding. Twenty-six people hid quietly in the boiler room, speaking by cell phone to police, during the rampage. Thirty-seven people made it out of the building alive.

Witness: "It was frightening" »
Outside the building, many residents of the town had no idea what was happening. All they could tell was the street was blocked off, and throngs of police descended around the building.
Don't Miss
Pennie Kerber, 72, lives in a renovated firehouse across the street from the center. She learned about what was happening not because she heard gunshots, but because her son called her.
"I heard absolutely nothing," she said. "Not even the police coming, the fire engines going, nothing."
Kerber, who said she has very strong three-pane windows, said she had been upstairs in her home all day, but had no idea about the dangerous situation evolving within 200 feet.
American Civic Association
• Founded in 1939 by group of immigrants
• Private organization funded by United Way
• Sponsors citizenship education
• Promotes racial, religious, political understanding
• Helps immigrants get visas, green cards
• Hosts everything from tenants' rights seminars to St. Patrick's dinners to polka concerts

After her son called, she went to the window to see what was happening.

"When I looked out, the place was totally surrounded with police cars and policemen all over the place with rifles, which was a little disconcerting to say the least ," she said.

For residents of this town, which was recently named by US News & World Report as one of the top 10 best affordable places to retire, the shooting was jarring.

"We've only been here six years, but I've never, ever heard anything, you know, out of the ordinary across the street," Kerber said.

One witness, who works at a barbershop down the street, said the shooting shocked him and has him concerned for himself and the rest of his coworkers.
"It's definitely scary because at our barbershop we have different types of people that come in daily. Half we don't know, some we do know, so it is scary," he said. "For a town like this for something like this to happen here -- yeah, I would be frightened, very frightened."
E-mail to a friend

All About Shootings • Binghamton