From Sara Pratley
CNN





(CNN) -- A 9-year-old girl who stood by as a man identified as her father pulled a gun and robbed an Ellensburg, Washington, convenience store has been found in California, police said Thursday.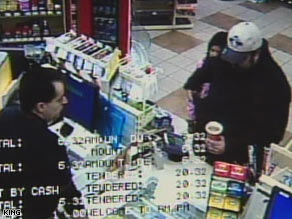 In this surveillance video, a girl can be seen behind the suspect as he draws a gun from his pocket.
Police said the girl was unharmed and was being returned to Washington state in protective custody.
Authorities said the suspect, identified as Robert Daniel Webb of Everett, Washington, is being sought.
Authorities said the robber took about $200 from the store.
Surveillance video from the AM/PM Mini Mart in Ellensburg caught the Tuesday morning robbery on tape and showed a man pointing a gun directly at the store clerk as the child stood nearby.
The clerk, Eric Owens, said the gunman told him he had lost his job and his daughter needed medical care. In the surveillance footage, the suspect can be heard saying the "economy sucks."

Watch man, accompanied by girl, pull gun at convenience store »
The clerk told CNN affiliate KING that he has experienced economic hardship himself -- he and his son were homeless at one point.
"I know what hard is, but resorting to crime is not the solution," Owens told KING.
Police in Ellensburg, about 100 miles southeast of Seattle, later said a Washington woman confirmed that it was her daughter in the video, and that the man was the girl's father.
Owens said he was concerned about the child's safety during the robbery, and that he feared that if another customer had walked in, the situation might have escalated.
"What's he going to do? Grab the kid and use her as a hostage?" Owens said.
Police in the northern California town of Fortuna said they located the girl Wednesday night after receiving information about a possible kidnapping.

They found a man and girl, ran a check on the man's identification and came up with a Washington state warrant for armed robbery, and some apparently unrelated warrants from California.
When police tried to take the man into custody, he eluded them, got back into his vehicle and sped away -- without the girl, Fortuna authorities said.

E-mail to a friend

All About California • Everett (Washington)