By Bill Mears
CNN Supreme Court Producer





WASHINGTON (CNN) -- A Yemeni man held by the U.S. military since late 2001 is to be released from custody at the Guantanamo Bay military prison after the Obama administration asked a federal court Monday to postpone his pending case.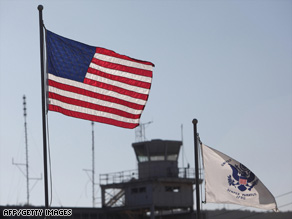 Ayman Saeed Batarfi has been held at the U.S. prison at Guantanamo Bay, Cuba, since late 2001.
Still, the release of Ayman Saeed Batarfi, a doctor, will not be an easy matter, officials said. The "hard part" will be finding a country willing to take him, one Justice Department official told CNN.
Batarfi, 38, is among the longest-serving suspected terrorists held in U.S. custody since the September 11, 2001, attacks, though his lawyers deny he is a terrorist.
Batarfi was first held at Bagram Air Base in Afghanistan and transferred to the Guantanamo prison in early 2002. His defense team contends he has been held there for years in virtual isolation, and forced to provide involuntary statements about his alleged terror activities.
Though the Bush administration declared him an enemy combatant, alleging ties to al Qaeda, he has not been formally charged by the military.
Batarfi claims he was assisting in the humanitarian relief effort in the Afghan-Pakistani border region, and not aiding the al Qaeda terror network. His attorneys had filed an appeal in federal court, asking the government to charge their client or release him.
Don't Miss
In a motion filed Monday in federal court in Washington, the government sought a halt to all legal proceedings in Batarfi's case.
"The United States will initiate the appropriate diplomatic process," said the government, "consistent with the national security and foreign policy interests of the United States, to facilitate petitioner's prompt transfer from Guantanamo Bay to an appropriate destination country."
No timetable was set for the Batarfi release.
About 240 prisoners remain behind bars at Guantanamo, though President Obama has announced plans to close it within a year.
The U.S. has struggled to find homes for some prisoners it has decided to release. Officials have said no prisoner will be sent to a country where they could be tortured.
The case is Batarfi v. Gates (05-cv-409).

E-mail to a friend

CNN Justice Producer Terry Frieden contributed to this report.
All About Guantanamo Bay • Afghanistan • Barack Obama • Al Qaeda