(CNN) -- AIG understated the amount of money it paid out to top executives after receiving federal bailout money, the attorney general of Connecticut says -- but AIG denies the accusations.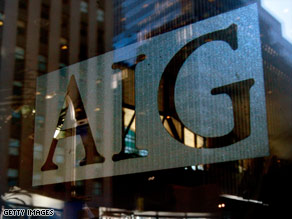 American International Group has received $170 billion in government money since September.
AIG's Connecticut-based Financial Products unit paid $218 million in bonuses, not the $165 million that the company acknowledged this month, Attorney General Richard Blumenthal told CNN Saturday.
However, CNN has previously reported that AIG paid $55 million in bonuses in December. A total of $450 million is expected to be paid to employees of the Financial Products unit.
Blumenthal told CNN the payments he has totaled are not dated, and he isn't sure whether the amount includes both the March and December payments. He has requested clarification from AIG on that point.
An AIG spokesman says Blumenthal's claims are "incorrect."
"The payments he appears to be referring to were made months ago, have been widely reported on and were specifically disclosed to the Treasury," spokesman Mark Herr said, adding that the $165 million in "retention payments" to executives of the Financial Products unit were made in March.
But Blumenthal is not buying it.
"We heard a few explanations, but quite honestly, none of the apparent justifications hold water with me," Blumenthal said. "Because whether the payments were made in December or March, I want to know how much they were."
Blumenthal is among 20 state attorneys general who announced investigations Friday into the $165 million bonuses paid out by insurance giant AIG last week. Connecticut's top lawyer said he discovered discrepancies after issuing subpoenas to CEO Edward Liddy and 11 other executives for "original or copies of documents regarding the AIG Financial Products Corporation retention bonus plan and any related contracts or agreements."
Don't Miss
AIG officials are citing a Connecticut law to justify their payment of the bonuses. The law says employees can sue in civil court for payments withheld that are due them and recoup double the amount of money.
But Blumenthal says there's grounds to challenge AIG's payment.
"These contracts were contingent on the company remaining in existence. This company would have ceased to exist but for the bailout with our taxpayer money," he said.
"So there are various grounds on which the contracts could be made unenforceable."
It was not clear where Blumenthal got the list of executives he subpoenaed.
At least one of them, Doug Poling, is known to have received a retention bonus. Earlier Friday, the senior executive announced through a company spokesman that he would be returning the $6 million he received.
The attorneys general of Arizona, Delaware, Illinois, Kentucky, Louisiana, Maine, Michigan, Mississippi, Montana, Nebraska, New Jersey, New Mexico, Ohio, Oklahoma, Oregon, Pennsylvania, Texas, Washington and West Virginia also launched investigations. New Jersey Attorney General Anne Milgram said all 19 state attorneys signed a letter to Liddy demanding names and documents concerning the bonuses.
"We are investigating whether this compensation was paid to those working in the AIG subsidiary largely responsible for the financial crisis at the company," Milgram said. "This crisis, in turn, resulted in the loss of billions of dollars in shareholder equity and necessitated a huge influx of taxpayer money."
Meanwhile, Sen. Chris Dodd, Connecticut's Democratic senior senator, said Treasury Department officials misled him on the issue of bonuses for AIG executives. He said he would not have drafted key legislative changes allowing the bonuses to move forward if he knew the purpose of those changes.
Dodd told CNN on Wednesday that he was responsible for language added to the stimulus bill to make sure that already-existing contracts for bonuses at companies receiving federal bailout money were honored. A Treasury Department official told CNN earlier that the Obama administration pushed for the language.

Dodd initially denied he had anything to do with adding the provision.
Treasury Secretary Timothy Geithner told CNN's Ali Velshi Thursday that his department asked Dodd to make the changes.
E-mail to a friend

All About American International Group Inc. • Richard Blumenthal