(CNN) -- A Buffalo, New York-area man accused of beheading his estranged wife pleaded not guilty Friday to a murder charge, according to the district attorney.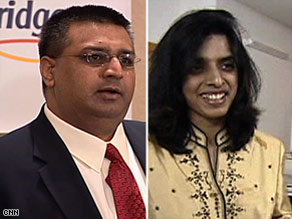 Muzzammil Hassan pleaded not guilty to second-degree murder in the death of his wife, Aasiya Zubair Hassan.
Muzzammil Hassan, 44, is charged with second-degree murder in the death of his wife, Aasiya Zubair Hassan, 37, who was killed days after she filed for divorce and was granted a restraining order against him.
Appearing before Judge Thomas Franczyk on Friday morning, Hassan pleaded not guilty and was sent back to the Erie County holding center. If convicted, he could be sentenced to 25 years to life, according to the district attorney's office.
Attempts to reach Hassan's attorney, James Harrington, were unsuccessful.
On February 12, Hassan went to the police station in the Buffalo, New York, suburb of Orchard Park and told officers his wife was dead, authorities said. He led them to her body, at the offices of Bridges TV, a network the couple began in 2004 to counter negative Muslim stereotypes. Muzzammil Hassan is its chief executive officer, and Aasiya Hassan was general manager.
Aasiya Hassan filed for divorce February 6, police said, and Muzzammil Hassan was served with divorce papers at the network offices. That night, when he showed up at the couple's home, she notified authorities and he was served with a restraining order.
Police had responded to several domestic violence calls at the couple's address, but no one had ever been arrested, Orchard Park police Chief Andrew Benz told CNN. However, two women who say they are Aasiya Hassan's sisters, one in Pakistan and one in South Africa, told reporters and posted in a blog that she lived in fear of him.
E-mail to a friend

CNN's Ashley Broughton and Chris Kokenes contributed to this report.
All About Domestic Violence • Murder and Homicide