(CNN) -- FBI agents Monday raided a rural Georgia peanut butter plant suspected as the source of a nationwide salmonella outbreak, a CNN affiliate reported.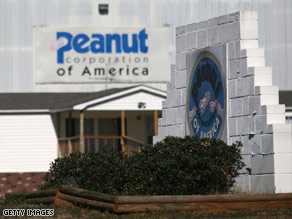 The Food and Drug Administration launched a probe of Peanut Corporation of America on January 30.
The Peanut Corporation of America plant in Blakely, Georgia, was sealed off by federal authorities Monday morning, WALB reported.
The company is accused of knowingly shipping tainted products now linked to nearly 600 illnesses, including eight deaths, in 43 states. The recent outbreak has led to one of the largest food recalls in U.S. history, encompassing more than 1,000 products.
The Food and Drug Administration's Office of Criminal Investigations launched a probe of the company on January 30.
Previously, the Peanut Corporation of America had said said it shipped products only after subsequent tests came back negative for salmonella.
Representatives from the company have not returned repeated calls from CNN.
E-mail to a friend

All About Food and Drug Administration • Peanut Corporation of America