By Ann O'Neill
CNN





CNN.com will carry Caylee Anthony's memorial service LIVE at 10 a.m. ET. Nancy Grace will anchor a special on HLN at Noon ET.
(CNN) -- As the family of Caylee Anthony prepares to finally lay her to rest, her grandmother announced plans to establish a charitable foundation to honor the memory of the slain Florida toddler.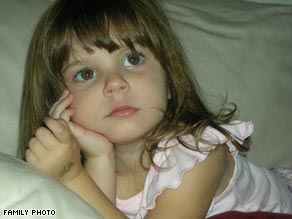 Caylee Anthony, 2, was missing for six months before her remains were found.
In a moving eulogy published in Sunday's editions of the Orlando Sentinel, Cindy Anthony wrote that the charity will be called the Caylee Marie Anthony Foundation. Its mission will be to draw attention to cases involving missing children.
"Caylee's life may have been short-lived on this earth, but her life will not have ended without a purpose," Cindy Anthony wrote. "She will be sadly missed but never forgotten. Caylee Marie Anthony now has her angel wings and will be watching over so many other children."
In the eulogy, Cindy Anthony also requested that only people with "the purest of hearts" and "truly honorable intentions" attend the public memorial service Tuesday morning at First Baptist Church of Orlando, Florida.
Cindy Anthony and her husband, George, plan to attend the service at the 5,000-seat mega-church. Their 22-year-old daughter, Casey, who was Caylee's mother, will not be present. Casey Anthony, who is charged with Caylee's murder, is being held at the Orange County Jail.

Watch what Casey Anthony's defense lawyers say »
Cindy Anthony listed Casey Anthony first among Caylee's survivors in her eulogy.
Cindy Anthony explained in her published eulogy that although donations already have been made in Caylee's name to organizations that help children, the family decided to establish a charitable foundation in Caylee's name.
"For those who fell in love with Caylee Marie on national TV, their grief is only temporary, their hearts will soon mend, and their memory of her may eventually fade," she wrote. "But for those who actually had the honor to meet Caylee Marie, it will be much more difficult for them to say goodbye, and their hearts may never heal."
Caylee was 2 when she disappeared last summer. Her remains were found on December 11 in woods less than a mile from the Anthonys' home.
Don't Miss
Caylee's remains have been released to Bryant Funeral and Cremation Chapel in Orlando, family attorney Brad Conway said. The remains will not be at Tuesday's public service, he added. The family plans a private funeral and burial, but is not disclosing details, Conway said.
The public memorial service is expected to draw a large crowd, and security will be tight. Officers will be provided by private firms and the Orange County Sheriff's office, and private donors will pay for them, officials said. Mourners will be required to pass through metal detectors, and will not be permitted to carry bags into the church.

Conway said the family will block some people from attending the service. "They know who they are. They will be respectively turned away," he said.
A large makeshift memorial, with teddy bears, candles and balloons, continues to draw the curious to the site where a meter reader found the remains.
E-mail to a friend

All About Caylee Anthony • Missing Children • Orlando (Florida)