(CNN) -- Federal agents are investigating another suspicious fire in a Pennsylvania town that has endured a string of arsons, a spokesman said Wednesday.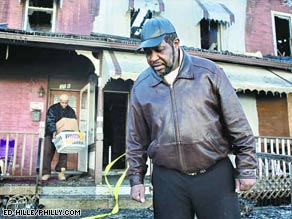 A resident surveys the damage to his home after a devastating fire last weekend.
The latest fire broke out Tuesday night in Coatesville -- about 40 miles west of Philadelphia.
It began in a garbage can behind a home, said John Hageman, spokesman for the Bureau of Alcohol, Tobacco, Firearms and Explosives.
The homeowner extinguished the fire before authorities arrived, he said.
Hageman said the fire is deemed suspicious; it has not been ruled an arson.
Authorities say there have been about 30 arsons in 2008 and 2009, with half occurring in the past four weeks.
One of the fires that authorities say was intentionally set swept through 15 homes over the weekend.
City Manager Harry Walker called the arsonists "terrorists."
He told CNN earlier this week that authorities believe the people behind the 2008 fires have been in custody since December, and that the blazes this month have been the act of a "copycat" group.
Don't Miss
Some residents say they are afraid to sleep at night.
Coatesville resident Vanessa Brickus, who said a friend of hers lost everything, said she's scared to leave her house, even to go to work.
"Living at home right now, I know everybody's living like they're scared to leave it," she said earlier this week.

She added, "I'm on my back porch, I'm on my front porch, I'm on the side of my house. This is at night. From 11 o'clock at night to almost 5 or 6 o'clock in the morning, I'm peeping out the windows."
She added, "I don't go to sleep since this stuff started."
E-mail to a friend

All About Arson • Pennsylvania