From Sean Callebs
CNN






MONROE, Louisiana (CNN) -- Mychal Bell says he felt pressure to be perfect after his part of 2006's "Jena 6" assault case was over. When police alleged last month that he wasn't, the Louisiana teen took his Christmas money and sought a gun to kill himself.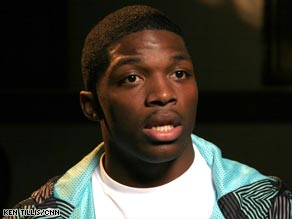 Mychal Bell says he's strived to do well after Jena, and last month's shoplifting allegations devastated him.
Distraught after being arrested on suspicion of shoplifting and battery, the 18-year-old Bell says, he obtained a gun, pointed it at his head and pulled the trigger.
The gun misfired, and he aimed at his chest and tried again. The bullet ripped through his body, and he fell to the floor of his grandmother's home in Monroe on December 29.

"It just got to the point where I just couldn't take it anymore," Bell, who is recovering from the wound, said in an interview with CNN.

Watch Bell describe shooting himself »
In December 2006, Bell -- then an all-state running back for Jena High's football team -- was one of six black teenagers charged in adult court with attempted murder and conspiracy charges in the beating of a white classmate in Jena, Louisiana, an incident that followed months of racial tensions in the community of about 3,000 people.
The "Jena 6" case drew national attention from civil rights groups that said the charges were excessive, and an estimated 15,000-plus people turned out for a September 2007 rally in Jena on the youths' behalf.
The charges were eventually reduced. Bell, only 16, pleaded guilty to battery in a juvenile court and moved to Monroe. There, for the past year, he attended high school, chasing a 2009 graduation and -- although Louisiana wouldn't let him play football at his new school -- hopes of a college football scholarship.
"I just wanted to show everybody that I really wasn't the type of kid that everybody was making me out to be," said Bell, who worked out with his school's team even though he couldn't play in games. "Nobody will ever be perfect, but it's like that's where my mind was. You need to be perfect."
Bell said he felt people were constantly watching him, hoping he'd fail: " 'Just mess up, just mess up.' There was a lot of pressure on me."
So he was devastated, he said, when he was accused of shoplifting at a Monroe mall on December 24.
Police say surveillance video appears to show Bell stuffing merchandise into a bag in a Dillard's store while another male seems to serve as a lookout.
Bell walked out with the bag without paying, officials said, and a security guard approached and took it from him. Police said Bell and the other male fled, and guards chased Bell because he'd had the bag. Authorities say it contained $370 worth of clothes.

Bell hid under a car in the parking lot, and as a store security officer tried to pull Bell out, he hit the guard in the face with his elbow, police said. Bell, who was charged with shoplifting, simple battery and resisting arrest, was released on bail, according to authorities.
Investigators don't know who the other male was, and Bell "admitted to everything" to a detective, Lt. Jeff Harris said.
In his CNN interview in Monroe, Bell -- who is back in school despite being in pain from his wound and subsequent surgery -- didn't comment on the shoplifting allegations because the case is pending.
But he said he "cried every day" after the arrest and "could never get back right."
"Christmas is my favorite time of year, and I just lay in bed, I cried, I tried to shake it off," he said. "I knew it was nothing but the devil, and I tried to shake it off."
On December 29, he said, he sought a weapon.
"I kept asking people, 'Do you know where I can get a gun from?' ... I take my Christmas money to buy a gun; it don't matter how much it costs," he said.
After receiving a gun from someone, he "went awry" in his grandmother's house, he said.
"I stood up, and I just put the gun to my head, and when I put it to my head, the gun clicked," he said. "So I was like, the gun must not be working.
"So then I put it to my chest, and when I shot ... I just stood there, and then I hit the floor, and then I couldn't breathe," he said.
The weapon was a .22-caliber handgun, police said. The shot punctured a lung. In the hospital, Bell said, he felt remorse when he saw his relatives.
In the CNN interview, he was asked what would have happened had he shot himself in the head.
"I would have hurt my family, my friends, my classmates and everybody who support me," Bell said.
Bell said he's felt a lot of pressure to do well after Jena. The case thrust him in the national spotlight, with civil rights activists Al Sharpton and Martin Luther King III leading the 2007 march.
"I just hear so many people supporting me and everything, and I always feel that if I ever make a mistake again, that whatever I do, it is going to have an effect," he said.
Having survived a suicide attempt, Bell now looks ahead to what he almost lost, his dreams and the pride he'll have when he achieves them.
"The biggest thing is graduation," he said. "One of the main things you want to do is walk across that stage and get that diploma. ... And everybody will say, 'he did it.' "

And then, he hopes, college football. Before the December shoplifting allegations, Bell was on the verge of getting a college football scholarship, according to his attorney Carol Powell-Lexing.
"A year from now, I want to be in college. ... I will be on somebody's roster, playing college ball," Bell said. "I love football Saturdays."
E-mail to a friend

CNN's Jason Hanna and Jason Morris contributed to this report.
All About Mychal Bell • Jena (Louisiana) • Louisiana