NEW YORK (CNN) -- Prosecutors asked a judge Monday to revoke bail and jail investment guru Bernard Madoff, who is accused of defrauding investors worldwide out of billions in a Ponzi scheme.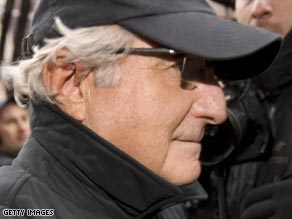 Bernard Madoff strolls down New York's Lexington Avenue after news of the scandal breaks.
Madoff violated bail conditions by mailing expensive jewelry and other assets to relatives, as well as a Florida couple, and should be jailed without bail, prosecutors told U.S. District Magistrate Judge Ronald Ellis at a bail hearing Monday.
One of the items was worth about $1 million and contained a hand-written note from Madoff, prosecutors said.
The judge withheld his decision and asked the lawyers to submit additional written materials this week.

Watch why the latest hearing is controversial »
Madoff , 70, was arrested last month and charged with one count of securities fraud.

He is accused of running a $50 billion Ponzi scheme from his investment advisory business that could result in huge losses to financial firms worldwide, charities as well as individual investors.
Madoff remains free on bail but confined to his Manhattan apartment.
E-mail to a friend

All About Bernard Madoff