By Peter Walker
For CNN





LONDON, England (CNN) -- Have you recently bent the official rules at work? Performed a task you're not specifically trained to do, perhaps even claimed for 20 minutes more time than you actually did?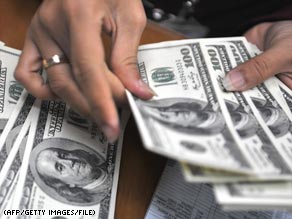 There is a moral gray zone... but keep your hands out of the cash till
Here's the good news, aside, of course, from the fact you weren't caught: You're by no means alone. Here's the even better news: You might not even have been doing any harm.
According to new research by a professor at a leading U.S. business school, so-called "moral gray zones" exist in more or less every sector or enterprise, with managers and supervisors turning a blind eye to all manner of activities not officially sanctioned by the rule book.
The official definition, according to Professor Michel Anteby from Harvard Business School, is: "Gray zones emerge when official company rules are repeatedly broken with, at minimum, a supervisor's tacit or explicit approval."
Examples abound in all sectors, whether it is mail delivery workers finishing their round early yet staying "on the clock" until the official end of their day, or software engineers devoting a small amount of company time to their own open-source projects. Aside from the personal benefits this can bring to employees, making them more content, there can also be other bonuses -- the mail gets delivered more quickly, while perhaps the coders pick up new techniques.
It is hard to define precisely what constitutes such a gray area. In contrast, of course, some activities which might possibly be ignored by supervisors -- for example shop staff stealing from a cash register -- clearly don't fall into the category.
Have you bent the rules at work? Do you agree with 'moral gray areas'?
One example highlighted by Anteby is that of paramedics in the U.S., who for reasons mainly connected to fear of malpractice suits are not supposed to carry out any medical acts but leave these to doctors. However, trusted and experienced paramedics often perform "crash" tasks to help save patients, with the acceptance of the doctors.
"Two broader implications can be drawn from this example," Anteby told Harvard Business School Working Knowledge. "First, leniencies are part of the managerial toolkit. They allow for 'local regulation' -- in other words, they allow work to be done. Second, by allowing trusted paramedics to save lives even if this means bending the rules a bit, physicians cater to the paramedics' occupational identities. Read the full interview in HBS Working Knowledge
"Paramedics become who they aspire to be, namely 'saviors.' These paramedics are also more likely to cooperate with the physicians in the future. Thus, moral gray zones enable both managers and workers to perform their roles."
Fact Box
FT MBA Rankings
1. London Business School, U.K.
2. Wharton, U.S.
3. Harvard, U.S.
4. Columbia, U.S.
5. Insead, France/Singapore
6. Stanford GSB, U.S.
6. IE Business School, Spain
8.Ceibs, China
9. MIT Sloan, U.S.
10. NYU, Stern, U.S.
Source: Financial Times 2009

One of the primary benefits of such tacitly permitted rule breaking is that as well as making employees feel valued, it allows middle managers to exercise some discretion, Anteby says.

"While such freedom can lead to abuses, overall it tests the ability of middle management to manage. Moral gray zones therefore rely on trust, at all levels, and might not be appropriate in all contexts."

One might expect such anomalies to be threatened given the increasing automation of the workplace, and the ever-greater technological opportunities for senior managers to monitor staff and their work.

But Anteby believes it is here to stay, not least because increasing competition within the workplace, and the impetus on staff to prove themselves, bringing a greater desire for autonomy and challenge.

So there you have it: You might be breaking the rules but it's all for the common good. Just as long as you keep your hand out of the cash till.

E-mail to a friend