(CNN) -- Next year is predicted to bring 14 named storms to the Atlantic Ocean, with seven of them becoming hurricanes, according to a university report that forecasts an "above average" 2009 hurricane season.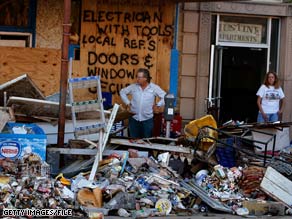 Hurricane Ike, one of 2007's "major" hurricanes, laid waste to coastal Texas.
The annual report was released Wednesday by Colorado State University forecasters Philip Klotzback and William Gray -- six months before the Atlantic hurricane season starts.
Storms do not acquire names until they are designated tropical storms with sustained maximum winds of at least 39 mph.
The CSU report predicted that three of the season's seven hurricanes will develop into intense or major storms, meaning Category 3 or higher on the Saffir-Simpson scale. Category 3 storms have sustained winds of at least 111 mph.
There is a 63 percent chance that at least one major hurricane will make landfall on the United States, according to the report.
The authors of the report stress that it is preliminary and will be revised several times as the hurricane season approaches.
"The media and general public should realize that there is a large amount of uncertainty with our early December prediction, issued seven months prior to the start of the hurricane season," Klotzbach said.
The Atlantic hurricane season runs from June 1 to November 30.
In May, CSU predicted 15 named storms for the 2008 season. Of those, it predicted eight would become hurricanes and four would grow into major hurricanes.
The university's December 2007 report had predicted there would be 13 storms.
The revised May report turned out to be more accurate. There were 16 named storms during the 2008 season. Eight became hurricanes and five were Category 3 or higher.
A typical season has 11 named storms, six hurricanes and two major hurricanes, according to the National Oceanic and Atmospheric Administration.
E-mail to a friend

All About Colorado State University