TEHRAN, Iran (CNN) -- Iranian raids on the offices of dissident attorney Shirin Ebadi may have put her and her clients in "grave danger," Ebadi's fellow Nobel laureates say.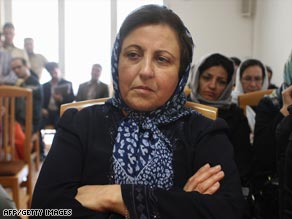 Shirin Ebadi won the Nobel Peace Prize in 2003 for her human rights work.
Her Tehran law office was raided by government authorities on Monday, with agents seizing two computers and dozens of files and documents on her clients, who are mostly political activists, Ebadi told CNN on Wednesday.
The authorities said they were from the tax office, Ebadi said.
The raid came a week after two organizations Ebadi also runs were raided.
Ebadi, a former judge and veteran human rights activist, won the Nobel Peace Prize in 2003. Other peace prize winners have launched a letter writing campaign to the United Nations and Iranian embassies in an effort to raise concerns about her safety.
"It is our great fear that Dr. Ebadi may be arrested in the next 24 to 48 hours as part of a systematic campaign by the government of Iran to bring an end to her work, and to the work of all human rights activists in the country of Iran," 1997 Nobel Peace Prize winner Jody Williams wrote in a letter to Navanethem Pillay, the U.N. high commissioner for human rights.
Ebadi said the agents told her they would return the items after reading them. "I am sure they are going to copy them all, which is illegal," she said.
"My clients, who are mostly political activists, may have said many things that had not been deemed proper to use in their court sessions," she said. "But now those people have access to everything my clients have told me in confidence."
"The confiscation of those files are against the law because they are contrary to the law that protects the sanctity of lawyer-client conversations."
She said her clients had filed a complaint with Judiciary Chief Ayatollah Hashemi-Shahroudi.
However, an informed source in Tehran said the country's judiciary was not involved in the most recent raid. The Iranian mission to the United Nations told CNN that it was unaware of any campaign to silence Ebadi's work.
Ebadi has led several high-profile campaigns on behalf of women and children in the Islamic republic and successfully campaigned to reveal those responsible for a 1999 attack on Tehran University students that left several dead. She has been imprisoned by Iranian authorities on numerous occasions.
Last week's raids shut Ebadi's Center for the Defense of Human Rights and another charity that aids land mine victims. A spokesman for Iran's Foreign Ministry told the state news agency IRNA that the organizations did not have legal work permits.
"There is now grave danger to both Dr. Ebadi, who fears an imminent arrest, and to her many human rights clients, whose basic human rights and lawyer/client privileges have been compromised by this seizure of their confidential files," Williams wrote. "Dr. Ebadi is deeply concerned that the lives of many dozens of people are now in jeopardy as a result of yesterday's illegal raid."
Ebadi told CNN last week that she had the proper licenses to practice law and had stamps showing she was up to date on her taxes.
E-mail to a friend

CNN's Talia Kayali and Terence Burke and journalist Shirzad Bozorgmehr contributed to this report.