(CNN) -- U.N. Secretary-General Ban Ki-moon on Sunday supported the Security Council's call for an immediate stop to the violence in Gaza that has left nearly 280 people dead and hundreds wounded.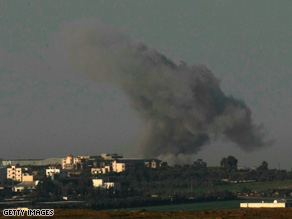 Smoke rises after an Israeli air force attack against Hamas militants in Gaza on Sunday as seen from Israel's border.
A statement from Ban's office said he is "saddened" by the Palestinian casualties, among them one U.N. relief worker and eight trainees, and one Israeli death.
Early Sunday, the Security Council "expressed serious concern" and called for "an immediate halt to all violence" in reaction to violence in Gaza and southern Israel in recent days. The call fell short of the resolution the Palestinians requested.
Ambassador Riyad Mansour, the Palestinian envoy, said if Israeli raids don't end within 48 hours then Arab nations will come back "knocking on the door of the Security Council" asking for more action "to bring Israel into compliance."
Israel's ambassador responded that her country was only exercising it's right to self-defense in the wake of hundreds of Hamas-fired rockets that have hit southern Israel.
"The last days were so bad that we had to say -- and did say -- 'Enough is enough'," said Ambassador Gabriela Shalev.
"The only party to blame is the Hamas," Shalev said.
U.S. Ambassador Zalmay Khalilzad supported Israel's contention that it was up to Hamas to stop the violence.
Don't Miss
"We believe the way forward from here is for rocket attacks against Israel to stop, for all violence to end, because the continuation of rocket attacks against Israel, clearly in that context, Israel has the right to self defense and nothing in this press statement should be read at anything but that," Khalilzad said.
The Security Council said members "expressed serious concern at the escalation of the situation in Gaza." It did not single out Israel or Hamas by name, but "called for an immediate halt for all violence."
"The members called on the parties to stop immediately all military activities," the statement said.
"The members of the council called for all parties to address the serious humanitarian and economic needs in Gaza and to take necessary measures including opening all border crossings to ensure the continuous provision of humanitarian supplies, including the supplies of food, fuel and provision of medical treatment," it said.
E-mail to a friend

All About Gaza • Israel • Hamas • Ban Ki-moon