BAGHDAD, Iraq (CNN) -- The trial of a reporter charged with throwing his shoes at President Bush during a news conference will begin next week, according to the reporter's brother.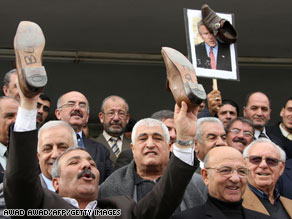 Amman protesters support Muntazer al-Zaidi, the Iraqi journalist held for throwing his shoes at President Bush.
Muntadhir Al-Zaidi, who faces a prison term if convicted, asked his family for new suit to wear in court and an Iraqi flag, his brother, Dhirgham Al-Zaidi, said.
The trial is scheduled for Wednesday, December 31.
Al-Zaidi is hailed as a hero by many Iraqis protesting his detention after he threw both of his shoes at Bush while the American president and Iraqi Prime Minister Nuri al-Maliki were holding a news conference a week ago during Bush's unannounced visit to Baghdad.

Watch shoe thrower hailed as 'patriot' »
Neither hit Bush, and the journalist was knocked to the ground, hustled out of the room and arrested by security officials.
Al-Zaidi's has not yet had a court appearance since the December 14 incident.
E-mail to a friend

CNN's Yousif Bassil contributed to this report.
All About George W. Bush