BAGHDAD, Iraq (CNN) -- Iraqi lawmakers postponed a vote Wednesday to set a deadline for the withdrawal of U.S. troops because the nation's three major factions continue tussling over political reforms.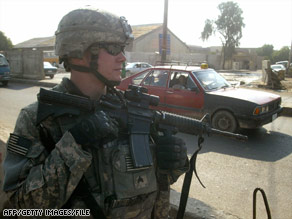 Iraqi lawmakers are slated to vote Thursday on a pact that will define U.S. troops' future role in Iraq.
The vote, originally scheduled for Wednesday, will be held Thursday, said Mahmoud al-Mashhadani, speaker of Iraq's parliament.
However, lawmakers will be headed to Mecca in Saudia Arabia this week for the Hajj pilgrimage, so it is conceivable a vote could be delayed until mid-December if it isn't held Thursday.
Sunni Arab politicians have been wrangling with Shiite and Kurdish leaders over political reform legislation. A primary point of contention is how much power Prime Minister Nuri al-Maliki, a Shiite, will wield once the U.S.-Iraqi security pact goes into effect.
The Sunnis want to ensure there is legislation underscoring their interests and constitutional rights before the security agreement comes to a vote, and they want a popular referendum next year to assess the security agreement's progress.
"From the morning and until now we have made a constant effort to try and reach a final deal," said Vice President Adel Abdul Mehdi, a Shiite, said in a statement.
Mehdi said the three-member presidency council has developed ideas and is waiting for reaction from the Iraqi Accord Front, the country's largest Sunni bloc, and others.
"Everyone in the presidency council has a good realistic vision, but the brothers have to deliberate among them and they have asked for more time," he said.
Don't Miss
There has long been tension among Sunni and Shiite Muslims, and in Iraq they share a history of both cooperation and hostility. Sunni Arabs -- who had more power under Saddam Hussein's regime -- have less clout under the present government and have been prominent in the anti-U.S. insurgency.
The United States and Iraq reportedly have made efforts to reach out to alienated Sunni Arabs since the Hussein regime fell.
But tensions continue to ripple.
Sunnis are concerned about the prospects of living amid armed forces and about a system under which they say Sunnis are detained without being charged. They also say they have been targeted by extremists, and that the Shiite-dominated government has behaved in a way that disregards their constitutional rights.
They also are concerned about their representation in the armed services.
Deputy Prime Minister Barham Salih, a Kurd, said after Wednesday's parliament session that the package of political reforms is meant to alleviate concerns by some lawmakers that the security agreement would be used by one group against others.
"I think it's fair to say that we have agreed on almost all but one issue. There is one single constituency that is demanding the elimination of the de-Baathification commission," Salih said, referring to the panel that oversees the governmental role played by former members of Hussein's Baath Party.
"We're working with this constituency to try to bring them over -- because we want to go and approve the security deal with the widest possible support from parliament," Salih said.
How the security agreement will affect different segments of society is a primary concern among Sunni Arabs, Salih said, but there are also concerns among some Kurds and Shiites as well.
The proposed security pact sets June 30, 2009, as the deadline for U.S. combat troops to leave all Iraqi cities and towns. All U.S. troops would withdraw from Iraq by December 31, 2011, under the proposal.
The security pact spells out the role of U.S. troops in Iraq and would replace a U.N. mandate that expires at year's end.
A Sunni politician said all the blocs have agreed to hold a popular referendum by July 31 to assess the progress of the security agreement and on proposed constitutional amendments that Sunnis have wanted for years.
Some Iraqi lawmakers have loudly opposed the security proposal, but it appears to have enough support from the Kurds and the ruling United Iraqi Alliance, a Shiite bloc, to garner a majority in the 275-member Council of Representatives.
Al-Maliki wants the Sunnis onboard with the security measure so it reflects Iraqi national unity. Salih emphasized the need for all three factions to OK the plan: "We want this to be a statement about national unity of Iraq."
If the security measure passes, it must be ratified by the three-member presidency council, made up of the President Jalal Talabani, a Kurd; Vice President Tariq al-Hashimi, a Sunni; and Mehdi.
The ratification must be unanimous, so al-Hashimi has the power to scuttle the security agreement if the legislation reaches the council.
E-mail to a friend

CNN's Arwa Damon and Jomana Karadsheh contributed to this report.
All About U.S. Armed Forces Activities • Iraq War • Nuri al-Maliki