From Yousif Bassil and Jomana Karadsheh
CNN
BAGHDAD, Iraq (CNN) -- Police in northern Baghdad found a mass grave Tuesday that contained the remains of 15 people, an Interior Ministry official said.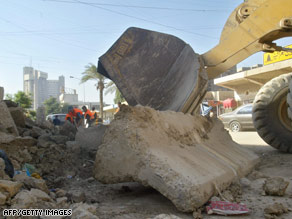 Barricades are removed Tuesday from a Baghdad street that formerly was closed due to fears of vehicle bombs.
The grave was in a house under construction in the Ur neighborhood, which used to be controlled by Shiite cleric Muqtada al-Sadr's Mehdi Army militia.
Authorities were attempting to determine who the victims were and when they died.
In other incidents, two bombs in a car exploded in Nineveh province's Sinjar area Tuesday. A civilian was killed and 11 were wounded, authorities in Mosul said.
A roadside bomb exploded in front of the western Baghdad house of an Electricity Ministry official. The official, Saadi Mahdi, and his wife were injured.
Roadside bombs in northern, central and southern Baghdad on Tuesday wounded five other people, including two police officers.
Meanwhile, Iraq's prime minister on Tuesday touted the recently signed U.S.-Iraqi security agreement and maintained it will usher in an era of full sovereignty in three years' time.
In a brief pre-recorded national address on state television, Nuri al-Maliki attempted to get the country behind the proposed deal and argued that the pact shouldn't be exploited by its opponents for "temporary political gains" or "an occasion for incitement."
The deal was approved on Sunday by the Iraqi Cabinet. Lawmakers in the Iraqi parliament began debating the pact on Monday in a stormy session punctuated by outbursts by opponents of the deal. A vote is expected next Monday.
Don't Miss
The agreement, cobbled together after months of talks, sets June 30, 2009, as the deadline for U.S. combat troops to withdraw from all Iraqi cities and towns. The date for all U.S. troops to leave Iraq would be December 31, 2011.
The dates would be fixed and are not subject to change in view of circumstances on the ground. The agreement also calls for no U.S. military operations without the Iraqi government's approval.
Saying the agreement was forged during a "difficult and sensitive phase" in Iraq's history, al-Maliki said it was a "solid prelude to regaining Iraq's full sovereignty within three years," even though government officials still have some issues with the pact.
Al-Maliki said the talks were arduous and "complicated" and at many points "reached a dead end."
"The draft of the agreement changed a number of times because of the Iraqi negotiators' insistence on coming out with an equal agreement that guarantees national sovereignty," he said.
Lawmakers from Shiite cleric al-Sadr's political movement and from former interim Prime Minister Ayad Allawi's secular bloc oppose the deal. Some Sunni Arabs have expressed reservations as well. There are 275 seats in the Council of Representatives, including 30 from the Sadrist movement and 24 from the Allawi bloc.
Al-Maliki -- who addressed the concerns and criticisms of the deal in his speech -- said some politicians were two-faced, talking one way about the deal in meetings and another way to reporters.
He questioned the judgment of some critics who continue to back away from supporting the pact, even though negotiators eventually met the main demand of many Iraqi citizens -- the insertion of a provision for fixed U.S. troop withdrawal timetables.
There were no secret parts of the deal and negotiations were not conducted in a secretive manner, al-Maliki said.
The prime minister also vowed in his speech that Iraq's territory won't be used as a launching pad for attacks on other countries. He also said there won't be permanent bases for foreign forces in Iraq.
In another development, Iraq's Cabinet on Tuesday set Saturday, January 31, as the date for the country's provincial elections -- voting that one official called the "most significant political event" in the near future for the Gulf nation.
The elections are considered a major step toward national reconciliation among Sunni Arabs, Shiites and other groups. The drop in violence across Iraq is seen as an opportunity to strengthen political institutions.
Staffan de Mistura, the U.N. Secretary-General's Special Representative for Iraq, said recently that the polls "are rightly viewed as an opportunity to establish a more inclusive sectarian balance and shape a new political landscape and are the most significant political event in the coming months."
The polls won't take place in Tameem province because officials delayed a decision on a dispute over power-sharing in Kirkuk between Kurds, Arabs and Turkmens.
E-mail to a friend

All About Iraq