BAGHDAD, Iraq (CNN) -- Iraqis' "adequate access" to food has improved over the past two years, but chronic malnutrition among younger children remains a problem, according to a report by the Iraqi government and the United Nations' World Food Programme.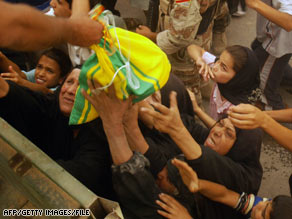 Impoverished Iraqis reach for food rations in Baghdad's Sadr City neighborhood in May.
The Comprehensive Food Security and Vulnerability Assessment says the number of people "without adequate access to food" dropped from about 4 million people in 2005 to 930,000 in 2007.
"We can give a cautious welcome to these figures," said Edward Kallon, the World Food Programme's country director for Iraq. "I say cautious, because 930,000 is still far too many for a relatively wealthy country."
Kallon attributes improvements in "food security" to improved economic and security conditions.
"But the situation remains volatile, and any deterioration could undermine the whole process," he said.
The government-run Public Distribution System is one of the safety nets keeping 6.4 million more people from going hungry, Kallon said.
The report also explored the nutritional conditions of children in Iraq under age 5.
Although there was an improvement in national acute malnutrition rates, there was "little change in chronic malnutrition rates," the report said.
Stunting rates in five districts were described as "alarming."
Other developments:
• A civilian cargo plane carrying six crew members and a passenger crashed in Iraq on Thursday, a U.S. military spokesman said.
The military said mechanical failure or pilot error appears to have caused the accident. The status of the people on board is not known, the spokesman said. No coalition personnel were among them.
The fixed-wing aircraft was headed from Al Asad Airfield in Anbar province to Baghdad International Airport. A quick reaction force was dispatched to the crash site to assist with security and relief efforts.
• A bomb attached to a minibus exploded on a highway in northeastern Baghdad on Thursday morning, killing one person and wounding seven, an Interior Ministry official said.
• The U.S. military said coalition forces conducted several raids in Iraq on Thursday, killing one militant in Tameem province in northern Iraq and detaining nine suspects. The other operations were in Mosul, near Baiji, and in Baghdad.
• An Iraqi Interior Ministry official said a car bomb exploded Thursday near an Iraqi army patrol in Hamadaniya, just northeast of Mosul in northern Iraq. Sixteen people, including six Iraqi soldiers, were wounded.
E-mail to a friend

CNN's Mohammed Tawfeeq contributed to this report.
All About Iraq • Baghdad • United Nations World Food Programme • Mosul