BAGHDAD, Iraq (CNN) -- The leader of an al Qaeda front group in Iraq is urging the "new rulers of the White House" and presidential allies from "Christian nations" to remove their forces from Iraq, Afghanistan, and other Muslim regions.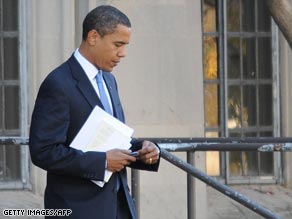 President-elect Barack Obama has started getting security briefings ahead of taking office in January.
Abu Omar al-Baghdadi, the purported commander of the Islamic State of Iraq, made the plea in a speech that showed up on Islamist Web sites Friday.
The message emerged three days after Barack Obama won the U.S. presidential election.
It was not clear if the message was produced before or after the election and there was no mention of Obama.
"Today and on behalf of my brethren in Iraq, Afghanistan, Somalia, and Chechnya, I declare to you what can be better for you and for us as well, and that is to go back to your previous pledge of detachment, and withdraw your forces and go back to your homes," said the message, which could not be authenticated by CNN.
"Don't meddle in the affairs of our countries, directly or indirectly. And we can promise you that we will not stop the trade with you, whether it is related to oil or anything else, but we will do that only in justice and fairness not by loss and cheap prices."
Don't Miss
Al-Baghdadi ridiculed Western civilization, saying it's "nothing but a civilization made of cardboard. If the electricity is cut off or your computers stop to work, you would go back to the era of pre-Middle Ages."
He said the West -- whose nations have been built on gambling and usury -- "robbed" Muslim lands and "oppressed" its residents.
He also made reference to the financial crisis.
"How you lost in few days during the financial crisis more than 50 trillion dollars. Where did all this money go? God once truly said 'God will deprive usury of all blessing, but will give increase for deeds of charity: For He loveth not creatures ungrateful and wicked.'"
Along with the United States, he mentioned other Western nations, such as France and Russia.
"The men of Islam and the knights of Jihad have greater aspirations, determination, and great might and hope. So, they don't care to wake up one day under the shadow of the ceiling of the White House, Elysees or the Kremlin. In this nation, there are righteous people whose prayers are always answered."
The U.S. military has publicly said in the past it believes al-Baghdadi is a fictional character who has been portrayed by an actor in previous statements.
E-mail to a friend

CNN's Saad Abedine contributed to this report