BAGHDAD, Iraq (CNN) -- Three bombings in or near Baghdad killed five people Thursday, authorities said.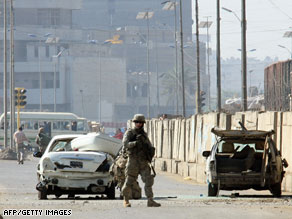 A U.S. soldier secures the site of a bombing Thursday in central Baghdad.
In the first incident, a roadside bomb exploded near a checkpoint in the Sheikh Omar district of central Baghdad, killing an Awakening Council member and another person, the Iraqi Interior Ministry said.
Awakening Councils are made up mainly of former Sunni insurgents who turned against al Qaeda in Iraq. They are cited as a main factor in the reduction of violence in the country.
A second roadside bomb went off near the Hadhra al-Qadriya shrine in the city's Nahdha district, killing one and wounding four, the ministry said.
Meanwhile, a roadside bomb that exploded at an Awakening Council checkpoint about 12 miles (20 km) southeast of Baghdad, in Nahrawan district, killed two and wounded two others, officials said.
An Interior Ministry official said three people were wounded in eastern Baghdad's Hamza Square when a bomb attached to a car exploded. The location is near Sadr City, the capital's restive Shiite district.
Meanwhile, the U.S. military said several militants were killed and captured in and near the northern city of Mosul over the last few days.
An al Qaeda in Iraq cell leader was killed and two suspected terrorists were captured on Tuesday, the military said. Two militants were killed on Wednesday in a raid nearly 60 miles northwest of Mosul, and nine people were captured in raids in Mosul on Thursday, the military said.
Another militant was killed in a raid targeting an al Qaeda in Iraq leader in Hawija, about 58 kilometers, or 36 miles, southwest of Kirkuk in Tameem province.
Troops went to a residence where the suspect was thought to be and told the occupants to surrender.
"As forces questioned two of the males who exited the house, one of them began acting in a threatening manner towards the ground forces. Perceiving hostile intent, the force engaged the man, killing him. It was later determined that he was the targeted suspect," the military said.
The second man was detained.
Seven other suspects were seized in coalition operations at other locations in Iraq on Wednesday and Thursday, the military said.
Also, the Iraqi government received a formal response Thursday from the United States regarding proposed changes to an agreement that would set the terms for U.S. troops in Iraq, government representatives said.
Iraqi government spokesman Ali al-Dabbagh said it wants more meetings with U.S. negotiators on the newly amended deal "to achieve mutual understanding."
"The Iraqi side needs sufficient time so that main (political) blocs would express their opinions on the amendments, suggestions and remarks made by the American side," al-Dabbagh said Thursday at a news conference.
White House spokeswoman Dana Perino would only say that the United States "responded positively in order for this to move forward."
A spokesman for the Iraqi prime minister, Yassin Majid, would also not provide any details of the U.S. response. He told CNN that Prime Minister Nuri al-Maliki has received the written reply and it will soon be discussed by the Iraqi government.
U.S. and Iraqi negotiators recently agreed to the draft status-of-forces deal (SOFA) that would set the terms for U.S. troops in Iraq after the U.N. mandate on their presence expires at the end of this year.
But last week, Iraqi officials submitted several amendments to the draft plan to U.S. negotiators in Baghdad. Iraqi Foreign Minister Hoshyar Zebari told CNN that the proposed changes call for a fixed timetable of U.S. troop withdrawal; a specific number of sites and locations that would be used by the U.S. military; and Iraqi jurisdiction over U.S. forces who commit certain crimes in Iraq.
In another development, Bulgaria will withdraw its troops from Iraq by the end of the year, the U.S. military said Thursday.
About 150 Bulgarian troops are in Iraq, based at Camp Cropper, a detention facility near Baghdad International Airport.
Bulgaria has lost 13 soldiers in the Iraq war.
E-mail to a friend

CNN's Mohammed Tawfeeq, Thomas Evans and Saad Abedine contributed to this report.
All About Iraq