By CNN's Michael Holmes
(CNN) -- Over the years, I've found myself in some dangerous places, from Baghdad to Kabul, Ramallah to Rwanda.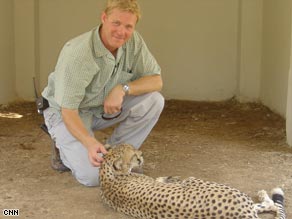 Michael Holmes pictured with a cheetah at Baghdad's zoo in 2004.
When I've reported on human suffering from those places, public reaction and feedback has usually been what you'd expect: sympathetic, heartfelt thoughts for the innocents.
Unless there's an animal within camera range.
Then, almost without exception, it's the pooch or the lion or the gorilla that steals the show, pushing the humans to the empathy backburner.
Don't get me wrong, I'm a big animal lover, but it's curious how critters tug heartstrings harder than human beings.
Sound off: Why do you think animal stories generate more of a response than human ones?
Phil Black in CNN's Baghdad bureau this week gave us the BackStory on their coverage of a pet store where the unusual animals include lion cubs, alligators and even a vulture -- merchandise that might raise eyebrows in the West.

Watch BackStory on wild animal shop report »
In Iraq, where I have reported from regularly in the past few years, there are entire pet markets where you'll find everything from exotic birds, snakes and monkeys to domestic dogs trained as guard dogs. I even saw a wolf in a market one day.
Sadly, that market was later the scene of several attacks -- mortars, and suicide bombings. Lots of people died, but I remember getting far more emails enquiring about innocent animals than innocent civilians.
Phil's story also reminded of a visit to the zoo in Kabul during my coverage of Afghanistan during the early days after the fall of the Taliban in 2001.
There we found animals in a pretty sorry state, including a lion named Marjan that had become a local celebrity after losing an eye when man threw a grenade into his enclosure, reputedly in revenge for a deadly attack by Marjan on his brother.
That story aroused an incredible response from ordinary people and animal rights groups, who launched a campaign to save Marjan. Sadly, he died not long afterwards of natural causes -- but by then he was quite a cause célèbre. A full funeral was arranged, complete with government officials and media coverage.
My experience in Kabul inspired me to visit the zoo in Baghdad following the U.S.-led invasion of March 2003. So, once we'd done our more traditional stories after arriving in the city, we went to see the animals.
It, too, was in a sorry state. Some animals had escaped and there were reports a lion had been shot by U.S. soldiers who found it wandering in nearby parkland
Again this story created an amazing response from the public and animal rights groups, some of which sent experts into Iraq just to help out with the animals.
A few months later, I returned to the now somewhat improved Baghdad zoo to report on the transfer of some cheetahs and some lions that had been kept as pets by Saddam Hussein's notoriously brutal son Uday (there were rumors he'd fed his rivals to the animals.)
It was quite a sight -- a civilian vet sedated the beasts, and the U.S. military loaded them on humvees and trucks and slowly drove them the few miles to the zoo. It was, to say the least, the most unusual military convoy I'd seen.
Of all the stories I have covered during my frequent trips to Iraq, most of the viewer feedback I received asked about the animal victims of war rather than the human ones. I make no judgment on that -- it is just an observation.
On my last trip to Iraq, I reported on many acts of violence and spent time with the military for days on end.
And the story that ran the most during my tour of duty? Got the most reaction? One about a military "therapy dog" named Bo.
E-mail to a friend