BAGHDAD, Iraq (CNN) -- The Iraqi government has unanimously agreed that a security pact with the United States lacks "some necessary amendments," government spokesman Ali al-Dabbagh said Tuesday.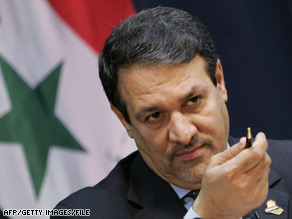 Iraqi spokesman Ali al-Dabbagh didn't say what parts of the pact Cabinet ministers want changed.
Also on Tuesday, insurgents shot and killed a department director for Iraq's largest oil refinery as he drove to work in the morning, a Tikrit police official told CNN.
Iraqi and U.S. negotiators recently finalized the text of the status-of-forces agreement, which would set the terms for U.S. troops in Iraq after the United Nations mandate on their presence expires at the end of this year. The agreement is now under consideration by the U.S. and Iraqi governments for final approval.
Iraq's Cabinet discussed the draft agreement during its regular session Tuesday. Al-Dabbagh said he called upon the ministers to submit their amendments so they can be included in the negotiations with the Americans.
The Iraqi government spokesman did not say what parts of the agreement the ministers want changed.
A senior U.S. official, who spoke on condition of anonymity because of the sensitive nature of the discussions, said parts of the agreement could be reopened because of Iraqi objections to the language on jurisdiction for U.S. troops, the troop pullout dates and the conditions for troop pullout.
But Defense Secretary Robert Gates said there was "great reluctance" to make any more changes to the agreement.
Don't Miss
"If [Baghdad] were to come up with something we haven't thought of, or identify problems we missed some way, we would have to take that seriously," he said. "So I don't think you slam the door shut. But I would say it's pretty far closed."
The draft status-of-forces agreement, according to a copy obtained by CNN, calls for U.S. combat troops to be out of Iraqi cities and villages by July 30, 2009, and out of the country entirely by December 31, 2011. The agreement allows for an earlier withdrawal or an extension of the U.S. forces' stay in Iraq by agreement of both parties.
It also allows the Iraqi government to ask "the United States government to leave certain forces for training and for support purposes for the Iraqi forces."
Legal jurisdiction over U.S. forces in Iraq has been a sticking point in the negotiation, with the United States preferring that its troops and contractors remain immune from Iraqi law.
Baghdad had sought the power to arrest and try Americans accused of crimes not related to official military operations, plus jurisdiction over troops and contractors who commit major crimes in the course of their duties.
Under the draft agreement, U.S. forces or contractors who commit "major and premeditated murders" while off duty and outside U.S. facilities would fall under Iraqi jurisdiction, according to the copy obtained by CNN.
All other crimes -- and murders committed inside U.S. facilities or by on-duty forces -- would fall under American jurisdiction, the agreement says.
While the U.S. State Department is publicly insisting the draft text of the status-of-forces agreement is a final version, senior U.S. officials are not ruling out possibly renegotiating parts of the deal with Iraq if the country's parliament does not approve it.
"We may have no other choice but to renegotiate parts of this document," one of the officials said Monday. "It will depend on how much pressure [Iraqi Prime Minister Nuri] al-Maliki is willing to put on his Shia brethren."
On Sunday, Iraq's ruling United Iraqi Alliance said it had found several points in the draft agreement that "need more time for discussion, dialogue and amendments [to] some of its articles," according to the Supreme Islamic Council of Iraq, the most powerful party in the ruling Shiite bloc.
Two senior U.S. officials told CNN that the United States may have to renegotiate the draft agreement because the alternatives are problematic. Those alternatives include a possible extension of the U.N. mandate -- which expires December 31 -- or an informal agreement between the United States and Iraq.
Gates said Iraq and the United States have two options -- complete work on the agreement or renew the U.N. mandate. But, he said, returning to the United Nations offers no guarantees of "a clean rollover."
"Clearly, the clock is ticking," he said. "Clearly there is a need to keep moving just so that we don't run out of time."
Given recent tensions between the United States and Russia over Georgia, it is possible Russia could veto any new U.N. Security Council resolution extending the authorization for U.S. troops in Iraq, the senior officials said. Also, the Bush administration is not keen to have a vague, informal agreement with Baghdad that does not provide clear guidelines on how U.S. troops are treated, the officials said.
"The consequences of not having a SOFA and of not having a renewed UN authorization are pretty dramatic in terms of consequences for our actions," said Gates.
The U.S. negotiating team is still in Iraq "providing clarifications should they be necessary on aspects of the document," State Department deputy spokesman Robert Wood said Monday.
The agreement must be approved by Iraq's Cabinet by a two-thirds majority before al-Maliki can submit it to the Iraqi parliament for approval.
Other points covered in the draft agreement include Iraqi ownership of "all the buildings, facilities and structures that cannot be transported and are connected to the ground" and used by American forces. Such facilities will be returned to Iraq when the agreement expires, it says.
Further, the agreement requires the United States to immediately return to Iraq any "historic or cultural site" it discovers at facilities it is using.
The agreement allows the United States to use whatever defensive systems it deems necessary in areas under its control. Yet it bars "systems of weapons of mass destruction (chemical, nuclear, radiological, biological weapons and waste related to these weapons)."
The United States is to transfer control of Iraqi airspace to Iraq when the agreement goes into effect, although Iraq can ask for assistance for airspace control and surveillance.
The agreement also covers environmental issues; the movement of troops in and out of Iraq; movement of vehicles, planes and ships; and the movement of equipment in and out of Iraq.
Other developments:
Mowaffak Merhi, the oil refinery department director, was targeted by a drive-by shooting in the town of Shirqat, about 185 miles (300 kilometers) north of Baghdad, a police official said.
Merhi worked for Baiji oil refinery in Salaheddin province north of Baghdad.
The refinery is the largest in Iraq, with a daily production level of about 8.5 million liters of gasoline, 7.5 million liters of diesel fuel and 6.5 million liters of white oil. It is a frequent target of insurgent attacks, and it is common for workers there to be threatened with violence.
• Seven mortar rounds landed on a residential area in Saidiya neighborhood in southwestern Baghdad around 6:30 p.m., wounding five civilians, an Interior Ministry official said.
• A roadside bombing Tuesday morning near an Iraqi army checkpoint near Al-Mustansiriya Square in eastern Baghdad wounded four people, including one Iraqi soldier, the ministry official said.
E-mail to a friend

CNN State Department producer Elise Labott contributed to this report.
All About Iraq • Nuri al-Maliki • United Nations Security Council