(CNN) -- Iranian President Mahmoud Ahmadinejad, in New York to address the United Nations about his nuclear program and other world issues, sat down with CNN's Larry King for a wide-ranging interview.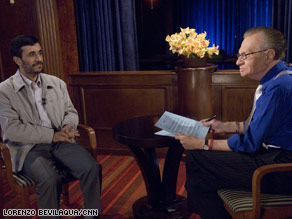 Iranian President Mahmoud Ahmadinejad talks with Larry King in New York on Tuesday.
Ahmadinejad expressed no personal preference on the outcome of the U.S. presidential race but said of Republican vice presidential nominee Sarah Palin, "I wish that we would have talked together when we were both mayors."
He also touched on the overthrow of Saddam Hussein in neighboring Iraq, the nuclear conflict with the United States and Iran's refusal to deal with Israel. A selection from the interview is below. For the full interview, watch "Larry King Live" at 9 p.m. ET Tuesday.
Larry King: Mr. President, thank you for coming. Do you like coming to New York?

Watch a portion of the exclusive interview »
Iranian President Mahmoud Ahmadinejad (through translator): In the name of God the compassionate, the merciful, well, this is the headquarters of the United Nations, and it is essential that we come here to meet with the heads of state and to promote the cooperation that is required for the management of world affairs today. Of course, I am also extremely interested to speak with the American people.
King: But there has been such hostility between the two countries, or at least the leaders of the two countries, do you think you can make steps forward in that regard?
Ahmadinejad exclusive
A revealing face-to-face interview with the president of Iran. Watch Mahmoud Ahmadinejad on "Larry King Live."
9 p.m. ET Tuesday
Ahmadinejad: Well, of course, the hostility has not been from our end. Up to this day, we have always been interested in having friendly relations. The hostility has been one-sided on the part of American politicians. And our nation has always defended itself against that hostility. But it's clear that nations do not have any problems with one another and we don't have any issues with the American people. But when the American government uses the language of force, we have no choice but to defend against it. We've done a lot, if you will recall, I sent a letter to Mr. Bush. The letter can be the start of a fresh endeavor and relation. We assisted in Iraq to establish safety and security as well as a new government. And I also ask that we talk with one another in the United Nations.
King: The president has not responded to your letter, has he?
Ahmadinejad: I think that Mr. Bush has lost a lot of good opportunities, including these recent ones and initiatives by me.
King: But he is leaving office. You will be dealing with a new president. By the way, do you have a preference among the American candidates?
Ahmadinejad: No. We do not a preference of any sort because we believe that these are issues relating to the domestic affairs of the United States, and decisions pertaining to that must be made by the American people. And it's not important to us, either. What matters essentially is that the president that is chosen by the American people should adopt a path and a policy approach and for us to observe that policy approach. This is the campaign period. Anyone can say anything. So we disregard that. What matters is that once someone is in office, we have to watch and see if that person will make -- bring about some changes in policy or continue the same old path. I think that's more important than who is actually voted in office.
King: Would you like to meet with Sen. McCain or Sen. Obama?
Ahmadinejad: I have said that -- in fact, on this very trip currently in New York, that I am ready to speak with presidential candidates before the press, with the presence of the members of the press and the media, and discuss world issues and debate them together. I believe that we have really whatever we could to -- in this respect.
E-mail to a friend

All About Mahmoud Ahmadinejad • Iran