BAGHDAD, Iraq (CNN) -- Coalition troops on Monday formally handed over security control of Iraq's Anbar province -- once the hub of the country's Sunni insurgency, to Iraqis on Monday.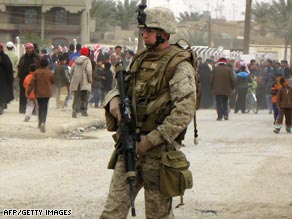 A U.S. soldier on patrol in Ramadi's market earlier this year. U.S. troops will remain in the province to support Iraqi forces.
President George W. Bush described the transfer as a major victory against al-Qaeda extremists who once held sway in the area.
"Today, Anbar is no longer lost to al Qaeda -- it is al Qaeda that lost Anbar," he said in a statement.
Once dominated by Sunni insurgents, Anbar has been the scene of many attacks on U.S.-led troops in Iraq.
Now a bastion of tribal opposition, it is also the scene of an internal Sunni political struggle between the Iraqi Islamic Party, one of Iraq's main Sunni parties, and the Awakening movement, the first anti-al Qaeda in Iraq movement established in the country.
More than 25,000 U.S. troops serve in the sprawling Anbar province west of Baghdad; most of them Marines. They will remain for the time being but will shift their mission to supporting Iraqi forces, when needed
The transfer is a "major progress" for all of Iraq, said Brigadier Gen. David Perkins, the spokesman for the Multi-National Force in Iraq.
The transfer ceremony took place in Ramadi, the capital of the western province, and was attended by Iraqi officials and U.S. military brass.

Watch U.S., Iraqi officials perform transfer »
"We are all well aware of what the security situation was in Anbar even a year ago," Perkins said. "And the fact that that has been able to be turned around, that the Iraqi citizens that live there want to stand up on their own, [that] they want to take control of the province on their own ... it's a major progress not only for Anbar, but for all of Iraq."
Anbar is the 11th of Iraq's 18 provinces to revert to local security control, but is the first Sunni-dominated one.
The move comes amid a big drop in violence in Iraq and calls from Iraqis for the United States to come up with a troop withdrawal timetable.
The other provinces that have transitioned to Iraqi security control are Duhuk, Irbil and Sulaimaniya in the Kurdish region, and Karbala, Najaf, Qadisiya, Muthanna, Thiqar, Basra, and Maysan in the Shiite south.
E-mail to a friend

CNN's Jomana Karadsheh and Arwa Damon in Baghdad contributed to this report.