From Mohammed Jamjoom and Mohammed Tawfeeq
CNN
BAGHDAD, Iraq (CNN) -- Lebanon's prime minister paid a visit to Iraq on Wednesday -- the first such visit by a Lebanese leader in the post-Saddam Hussein era -- and he and his Iraqi counterpart discussed issues including oil exports and investment.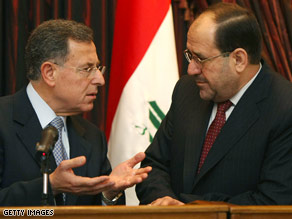 Lebanese Prime Minister Fouad Siniora, left, confers with Iraqi Prime Minister Nuri al-Maliki on Wednesday.
Prime Minister Fouad Siniora and a delegation were greeted at Baghdad International Airport by Nuri al-Maliki, Iraq's prime minister, the government said in a news release.
After the two met, they spoke to reporters.
Al-Maliki said Iraq welcomed Lebanese investors and will work to provide them the proper economic incentives.
"Iraq will supply Lebanon with crude oil according to a bilateral agreement that will be signed by the related ministers from the two countries," al-Maliki said.
Siniora's visit follows last week's visit by Jordan's King Abdullah II, which was the first trip to Iraq by an Arab leader in the post-Saddam era. Iraq has been working to develop closer relations with Arab nations.
Saad Hariri, the leader of Lebanon's parliamentary majority, visited Iraq last month.
Lebanon named an ambassador to Iraq two years ago, but he died, and a replacement has not yet been chosen. There is an Iraqi Embassy in Beirut, the capital of Lebanon.
In other news Wednesday:
An Interior Ministry official told CNN that the army arrested the son of Adnan al-Dulaimi, a leading Sunni Arab politician. Muthana al-Dulaimi was taken from his house in the Adil neighborhood of western Baghdad on Tuesday night. Dulaimi's other son, Makki, was arrested in November after troops found a car full of explosives. Adnan Dulaimi himself was put under house arrest at the time but later released. Makki Dulaimi remains in custody.
At least one act of violence took place in Baghdad. An Interior Ministry official told CNN a roadside bomb exploded underneath a bridge in Suleikh, a Sunni neighborhood in the northeastern section of the city. Two civilians were killed and four others were wounded, the official said.
Officials in Diyala province said security forces discovered 20 corpses in Albu-Toma, a village near Khalis. Police believe the people were killed about a year ago when al Qaeda in Iraq controlled much of the region.
E-mail to a friend

All About Iraq • Al Qaeda in Iraq • Baghdad