(CNN) -- U.S. counterterrorism officials said Friday they have seen no evidence to support a media report that al Qaeda's No. 2 official, Ayman al-Zawahiri, may be critically wounded or dead.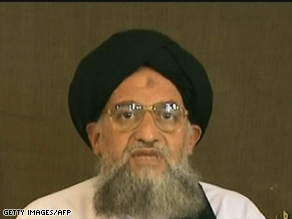 A $25 million reward has been offered for Ayman al-Zawahiri, al Qaeda's second-in-command.
A senior intelligence official told CNN there is no evidence to support a CBS News report on al-Zawahiri, and no reason to believe it is true.
"This is utterly uncorroborated, and at this point there is no reason to believe that al-Zawahiri has been injured or killed," another intelligence official said.
According to the CBS report, a letter intercepted in Pakistan refers to the 57-year-old physician by name and requests a doctor, saying he is in "severe pain" and his "injuries are infected."
The July 29 letter was reportedly written by a local Taliban leader whose signature and seal are on the letter, CBS said. But the network said it had not been able to authenticate the signature or the seal.
Two Pentagon officials also said they were unaware of any credible reports of al-Zawahiri's death.
Pakistan's ambassador to the United States said his country was "unable to confirm or deny" the report.
"We are looking into the reports and will comment only after we have solid evidence either way," Husain Haqqani said.
A $25 million reward has been offered for Al-Zawahiri. He has delivered numerous messages on audio and video urging militants to continue the fight against the United States.
He narrowly escaped death in an attack in the Tora Bora region of Afghanistan in 2001 that left his wife and children dead.
He was imprisoned for his involvement in the 1981 assassination of Egyptian President Anwar Sadat.
This week, al Qaeda reported on radical Islamist Web sites that a U.S. airstrike killed Abu Abdallah al-Shami, a "military leader" who had escaped from a U.S. prison in Afghanistan in 2005.
That statement was dated July 14, although it was not posted until July 31. It did not say where or when the airstrike occurred.
Also this week, there were reports that a U.S. airstrike in Pakistan on Monday may have killed al Qaeda bomb-making and poisons expert Abu Khabab al-Masri, who was previously reported killed in 2006.
Jihadist Web sites have not mentioned al-Masri's death, and al-Zawahiri's name did not surface in any of those reports.
E-mail to a friend

CNN's Kelli Arena, Jeanne Meserve, Jamie McIntyre, Octavia Nasr, Carol Cratty and Brian Todd contributed to this report.
All About Al Qaeda • Ayman al-Zawahiri • Afghanistan