JERUSALEM (CNN) -- Israeli Prime Minister Ehud Olmert does not believe a peace accord with the Palestinians can be reached by the end of the year, according to a senior Israeli official.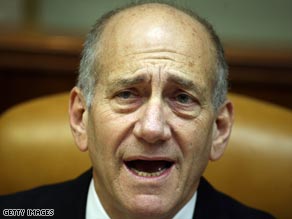 Israeli Prime Minister Ehud Olmert apparently does not believe a peace deal is possible by the year's end.
Speaking to parliament's Foreign Affairs and Defense Committee, Olmert said Monday that Jerusalem's status was the main hurdle in the way of reaching such an agreement, according to the official, who attended the committee meeting.
Olmert and Palestinian Authority President Mahmoud Abbas signed a joint statement in November at a U.S. summit for Middle East peace, pledging to work toward securing a peace agreement by the end of this year. The Bush administration has repeatedly said it believes a peace deal can be achieved by the end of President Bush's final term in office.
Palestinians hope East Jerusalem will one day become the capital of a Palestinian state. Israel regards the land as part of its undivided capital.
Israeli and Palestinian negotiators were closer to reaching an agreement on other final status or "core" issues, such as refugees and borders, Olmert said, according to the official.
Don't Miss
The Palestinian territories are divided, with Abbas' Fatah movement holding power in the West Bank, and Hamas -- which the U.S. and Israel consider a terrorist group -- ruling Gaza.
Olmert told the committee on Monday that Israel was still committed to working toward such a deal, but it was not likely to happen in the next five months, the official said.
Talks between the two sides aim to end the Israeli-Palestinian conflict by establishing an independent Palestinian state that peacefully co-exists with Israel.
E-mail to a friend