BEIRUT, Lebanon (CNN) -- French President Nicolas Sarkozy made a brief visit to Beirut on Saturday, showing his country's support for newly-elected Lebanese President Michel Sleiman and urging leaders of political factions to pursue "national reconciliation."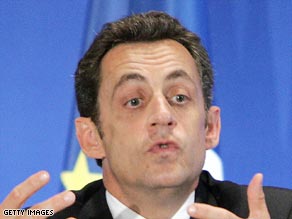 French President Nicolas Sarkozy is visiting Beirut to show his support for Michel Sleiman.
Sarkozy led a high-profile delegation that included his prime minister, foreign minister, defense minister and French opposition representatives. He is the first Western head of state to meet with Sleiman since he was elected president last month.
During his five-hour trip, Sarkozy met with President Sleiman at the presidential palace and had lunch with Sleiman and members of the various political factions in Lebanon. France, once a colonial presence in Lebanon, has long had a close relationship with the nation and has worked to help the country achieve political stability.
"President Sleiman has a big responsibility to achieve national reconciliation and it is essential for all Lebanese political parties to translate into reality their commitment to hold dialogue. There has been too much suffering in Lebanon," Sarkozy said.
Defense Minister Herve Morin traveled to southern Lebanon to visit French troops who are part of UNIFIL, the United Nations peacekeeping force in Lebanon. Sarkozy cancelled his earlier plan to go there.
Lebanon's parliament last month chose Sleiman, who was Lebanon's army chief, as the country's 12th president, filling a six-month vacancy created by the November departure of former President Emile Lahoud.
His election was part of deal worked out in Qatar last month that ended a political impasse in the country. The Qatari emir has visited Sleiman since his election as well.
Prime Minister Fouad Siniora was reappointed by Sleiman, but a new cabinet has not yet been formed.
E-mail to a friend