LONDON, England (CNN) -- Israeli attacks on suspected Hamas strongholds in Gaza have triggered protests in more than a dozen countries.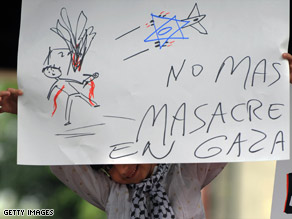 A girl in Caracas, Venezuela, holds a sign reading, "No more massacre in Gaza" at Israel's embassy Monday.
The attacks entered their third day Monday, with more than 300 people in Gaza reported killed and hundreds more wounded. Israel says the military assault is in response to ongoing rocket strikes on Israel, which have killed two Israelis.
In London, England, dozens of protesters gathered outside the Israeli Embassy, waving flags and trying to push their way closer to the building, as police tried to hold them back and erect a barricade.
Police in Germany said about 2,000 protesters marched peacefully down Berlin's Kurfuerstendamm Boulevard and dispersed after about three hours.

Watch protesters push toward embassy »
Protesters also have taken to the streets in Denmark, France, Italy and Spain, according to news reports. There also were reports of demonstrations in Caracas, Venezuela.
Iranian media reported that thousands took part in anti-Israel demonstrations in Tehran on Monday, which the government declared a day of mourning for the Palestinians in Gaza.
Photographs of the rallies posted by Iran's semi-official Fars News Agency showed black-shrouded women and men holding shoes in the air -- widely considered an insult in the Middle East -- while others held Palestinian flags and signs that said "Down with U.S.A." in English and Farsi.
Greek riot police clashed with protesters in Athens during a demonstration outside the Israeli Embassy, according to police and images broadcast on state television.
Don't Miss
Protesters hurled stones in an attempt to break through the police cordon around the heavily secured embassy. Police responded with tear gas.
In Iraq, hundreds of supporters of Shiite cleric Muqtada al-Sadr demonstrated in al-Mustansiriya Square in eastern Baghdad. The demonstrators carried Iraqi and Palestinian flags, banners and pictures of al-Sadr and his father.
The demonstrators threw an Israeli flag on the ground, put President Bush's picture on top of it and set both on fire.
In the Muslim world, demonstrations also were held in Jordan, Egypt, Pakistan, Indonesia, Libya and Bahrain, the BBC and other news outlets reported.

See world leaders' reactions to offensive »
Also, thousands of Lebanese demonstrators packed the streets of Beirut as part of a rally called by the militant group Hezbollah. Hezbollah leader Hassan Nasrallah addressed the crowd via satellite from an undisclosed location.
Protests were also held in Israel, where students at universities in Haifa, Tel Aviv and Jerusalem demonstrated against the Israeli military operation, ynetnews.com reported.
E-mail to a friend