LONDON, England (CNN) -- Police investigating claims of child abuse on the Channel Island of Jersey say they have found the remains of at least five children, according to media reports.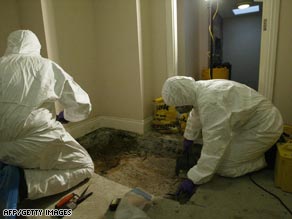 Forensic officers examine a scene at the former children's home Haut de la Garenne.
However the authorities say problems dating bone and teeth fragments discovered at the long-closed children's home at Haut de la Garenne, means a murder prosecution is now unlikely.
Deputy Chief Officer Lenny Harper, who is leading the investigation, told the BBC: "At the end of the day there may not be the evidence there to mount a homicide inquiry and an attempt to bring anybody to justice for whatever crimes took place there.
"The latest information we're getting is that for the period we're looking at, it's not going to be possible to give us an exact time of death."
According to the British Press Association, the police have evidence the bodies -- of children aged between 4 and 11 -- were burned and attempts were made to conceal the bodies in the late 1960s to early '70s.
To date, a total of 65 milk teeth have been recovered from the cellars at Haut de la Garenne. Experts believe the teeth could only have come out after death because of their condition.

CNN's Phil Black reports from Jersey »
Over 100 human bone fragments have been discovered at the site, with one piece identified as coming from a child's leg and another from a child's ear.
Don't Miss
Officers excavating four underground chambers at the building, referred to as punishment rooms by some victims, have also found shackles and a large blood stained bath.
The investigation at Haut de la Garenne started in 2006, when the authorities were alerted to the possibility that pedophiles had worked at the institution for neglected and abandoned children. A remand wing also housed children who had been convicted of crimes.
The discovery in February of a skull fragment under a stairwell in the building sparked more than 160 allegations of child abuse there dating back to the 1960s, the authorities said.
The building opened in 1867 and housed up to 60 children at any one time. It underwent several renovations and closed in 1986 only to reopen as a youth hostel in 2004.
Jersey is a British crown dependency, 14 miles off the coast of Normandy, France.
E-mail to a friend