(CNN) -- The arrest of former Bosnian Serb leader Radovan Karadzic leaves the former Bosnian Serb army commander -- Ratko Mladic -- as the most sought-after fugitive from the Balkan wars of the 1990s.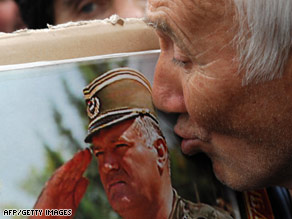 A Serbian Radical Party supporter kisses a picture of Bosnian Serb war crime fugitive Ratko Mladic in May.
The United Nations International Criminal Tribunal for the Former Yugoslavia has been waiting for years to try Mladic on a variety of charges.
Mladic faces charges of genocide and crimes against humanity in the killing of some 7,000 Muslim men and boys at Srebrenica in 1995. He's also wanted for his role in the 1992 shelling of Sarajevo.
The 66-year-old Mladic was born on March 12, 1942, in the village of Kalinovik in the Republic of Bosnia and Herzegovina. His father was killed by Croat Nazis when he was 2.
He graduated from Yugoslavia's military academy in 1965 and joined the Yugoslav Communist Party that same year.
In 1991, he commanded the army's 9th Corps in fighting against Croatian forces. A year later, he headed the Yugoslav army's headquarters in Sarajevo, before commanding the newly created Bosnian Serb army.
In 1992, as hostilities broke out in Sarajevo, Mladic led the "shelling and sniping to target civilian areas of the city and its civilian population and institutions, killing and wounding civilians, and thereby also inflicting terror upon the civilian population," the war crimes tribunal contends.
Mladic is accused of leading the army into the U.N.-protected enclave Srebrenica in 1995.
"Subsequently, those Bosnian Serb forces terrorized Bosnian Muslims, who were forcibly transferred to areas outside the enclave and many of whom fled in a huge column through the woods toward Tuzla. The majority of this group consisted of unarmed military personnel and civilians," the tribunal says.
About 7,000 men and boys were killed at Srebrenica during this period.
The U.N. tribunal indicted Mladic in 1995, along with 51 others, on charges involving war crimes and atrocities committed during four years of civil war.
In July 1996, an international arrest warrant was issued for Mladic after investigators collected evidence at the site of the Srebrenica massacre.
Bosnian President Biljana Plavsic ordered Mladic to step down as military commander in November 1996. Mladic returned to Belgrade after the war but disappeared after former Yugoslav President Slobodan Milosevic was arrested in 2001.
Seen by some Serb nationalists as a military hero, Mladic was spotted in 2004 at Bosnian Serb military facilities. Serbian military officials later denied hiding or hosting Mladic.
The status of Mladic is one of the major stumbling block's to Serbia's admission to the European Union.

Watch Kosovo's PM discuss what Serbia needs to do »
Mladic is married and he and his wife had a son and daughter. The daughter, Ana, died from suicide in 1994.
E-mail to a friend

All About Ratko Mladic