(CNN) -- Former Bosnian Serb President Radovan Karadzic is in custody in Belgrade, Serbia, and will soon be handed over to an international war crimes tribunal at The Hague, Netherlands, to face charges over his alleged role in Balkans war atrocities.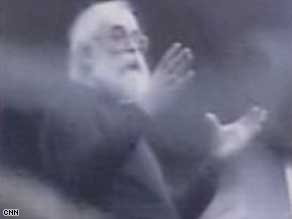 Image of Karadzic shown by prosecutors shows the fugitive with a heavy white beard.
Here's a look at what is expected for Karadzic:
Where is he being held?
Karadzic is in Belgrade in the custody of the Serbian authorities at the war crimes court in Belgrade, according to a spokeswoman for the war crimes prosecutor's office.
What are the legal procedures in Belgrade?
Karadzic has already been brought before an investigative judge for the war crimes court, according to his lawyer, Sveta Vujacic, and Olga Kavran, a spokeswoman for the prosecutor at the International Criminal Tribunal for the Former Yugoslavia (ICTY) at The Hague.
The Serbian judge has determined that the conditions for his transfer to The Hague have been met, said Rasim Ljaljic, president of the National Council for Cooperation with The Hague Tribunal. Karadzic now has three days in which to appeal the transfer, and the court will have another three days to decide on his appeal, said Ivana Ramic, a spokeswoman for the district court in Belgrade. The whole process, she said, could take as long as six days.
What happens once he gets to The Hague?
At The Hague, Karadzic will be in the custody of the International Criminal Tribunal for the Former Yugoslavia, Kavran said. He will have an initial court appearance before judges who will make sure Karadzic has been informed of his rights and the charges against him. He will be given an opportunity to enter a plea if he wishes, Kavran said.
Karadzic will be held in the tribunal's detention unit, Kavran said. Like other detainees, Karadzic will spend part of his days in his individual cell and part of his days in court or interacting with other detainees. The tribunal says its detainees participate in communal activities like English language classes or religious services and get to spend an hour a day outside. Detainees have access to TVs, newspapers, magazines and computers, though they do not have Internet access.
How long will it take until his trial begins?
It could take several months before Karadzic's trial begins, but an exact timeframe is difficult to pin down, Kavran said. In Karadzic's case, the charges are complex and the time period involved is lengthy. In addition, there are many crime scenes and thousands of victims -- all of which means it could take a long time to prepare the case against Karadzic, Kavran said.
E-mail to a friend

All About Radovan Karadzic • Ratko Mladic • Bosnia and Herzegovina