BAGHDAD, Iraq (CNN) -- Iraq's largest Sunni Arab bloc rejoined the Cabinet on Saturday after a year-long boycott.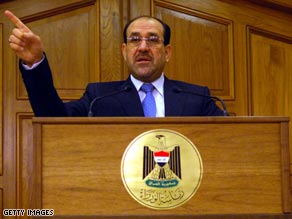 Iraqi Prime Minister Nuri al-Maliki agreed to a deal that would return the Accord Front to Cabinet.
Saleem Abdullah, a spokesman for the Iraqi Accord Front bloc, said the parliament voted overwhelmingly Saturday to appoint six members of his bloc to Cabinet posts, including one as deputy prime minister.
The United States and Iraq have cited the inclusion of Sunnis in Iraq's political lifeblood as a major factor in restoring political stability and improving the atmosphere for national unity.
The Accord Front's return was part of a deal announced July 1 in which Prime Minister Nuri al-Maliki, a Shiite, accepted proposals from the bloc for five candidates to fill the several ministries that bloc members vacated last summer.
The new deputy prime minister is Rafeh al-Issawi, Abdullah said.
The other five ministries going to Accord bloc members include higher education, culture, minister of state for foreign affairs, minister of state for women's affairs and telecommunications, he said.
The parliament also approved four independents to fill cabinet posts vacated by Sadrists, he said.
Sunnis had a great deal of power during Saddam Hussein's regime but became marginalized after he was toppled in 2003 and a Shiite and Kurdish power structure emerged.
They made up the bulk of Iraq's insurgency, but many have switched sides in the past two years and have joined the anti-al Qaeda in Iraq awakening movement.
The Accord bloc, which includes 44 lawmakers in the 275-member parliament, pulled six ministers from the Cabinet in August for several reasons, including the monopolization of power by Shiites and Kurds and what had been regarded as the unjust detention of Sunnis.
But lately, Sunnis have been more amenable toward the al-Maliki government because of its efforts this year in promoting prisoner amnesty, sharing power, and taking on militants in Shiite regions such as Basra, Amara and Baghdad's Sadr City neighborhood.
E-mail to a friend

CNN's Jomana Karadsheh contributed to this report
All About Iraq • Saddam Hussein • Nuri al-Maliki