MOSCOW, Russia (CNN) -- Georgia and its breakaway region of South Ossetia offered differing accounts Friday of a shooting that highlights continued tension between them amid Georgia's NATO ambitions.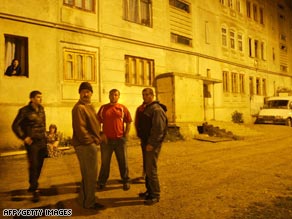 South Ossetians stand in the street during a night of shelling in Tskhinvali.
South Ossetia said shootings Thursday night in the regional capital of Tskhinvali and surrounding areas killed two people and wounded 11 in what a South Ossetian government spokeswoman called a Georgian "military provocation," according to a report on Russia's state Interfax news agency.
A Georgian defense official, however, denied that Georgian troops even fired a shot, though they were fired upon, and said the incident is part of ongoing provocation by South Ossetian separatists.
The Organization for Security and Cooperation in Europe (OSCE) expressed its "serious concern" about the incident.
Georgia, located on the Black Sea coast between Russia and Turkey, has been riven by Russian-backed separatist movements in South Ossetia and another region, Abkhazia.
Accusations often fly on both sides, and the South Ossetian leadership has often said Georgian troops stage attacks to create a pretext for military action.
South Ossetia declared its independence from Georgia in the early 1990s after a bloody war there between ethnic Georgians and Ossetians. South Ossetia's independence is not internationally recognized.
Russian, Georgian and South Ossetian troops still participate in a mixed peacekeeping force in South Ossetia and have maintained a fragile peace broken occasionally by fighting.
Speaking to Interfax on Friday, South Ossetia government spokeswoman Irina Gagloyeva blamed Georgia for trying to provoke fighting with the nighttime shooting.
"It was a very well planned military operation in three (places)," she said.
South Ossetia is prepared to ask Abkhazia and its other regional allies for help in dealing with the situation, the region's president, Eduard Kokoity, told Interfax. Kokoity said he spoke with the Abkhazian president after the attack and was told Abkhazia stands ready to help.
Georgia wants to join NATO but Russia opposes the move, concerned the alliance's eastward march will erode its influence. NATO rejected Georgia's membership bid in April despite strong lobbying from U.S. President George Bush, though the alliance promised Georgia could join at a later date.
While the South Ossetian government spokeswoman spoke of shootings in three areas, an aide to the commander of the peacekeeping force said some districts in and around Tskhinvali came under mortar attack followed by gunshots.
A Georgian official, however, told CNN the incident happened when Georgia's administrator for South Ossetia, Dmitry Sanakoev, was traveling through the area and his convoy was hit by a bomb.
Batu Kutelia, Georgia's first deputy defense minister, said Sanakoev was unhurt but four of his bodyguards were wounded.
Georgian peacekeepers then arrived at the scene and were fired on over "an extended period of time," Kutelia said -- but he insisted claims that Georgian troops fought back are "a total lie." Kutelia said the Georgian troops killed no one and there were no direct clashes between the two sides.
Kutelia accused the South Ossetian separatists and their Russian supporters of wanting to undermine increasing international involvement in the region.
South Ossetia's interior minister warned the Georgian side not to provoke an attack.
"If the Georgian side tries to start shootings at the city (of Tskhinvali) with large-caliber weapons, then (South Ossetia) will take responding steps which would be very effective and painful for Georgia," said Interior Minister Mikhail Mindzayev. "That is why we want to warn and to appeal to the Georgian side."
The chairman of the OSCE -- which has a mission in Georgia to assist the government in conflict settlement and rule of law -- issued a statement expressing his "serious concern" about the incident. He said it and similar incidents are "worrying signs of growing tension."
"I call on all parties to use all necessary tools at their disposal to restore dialogue, a precondition for building confidence," said Alexander Stubb, who is also the Finnish foreign minister.
Kutelia said the OSCE is expected to visit the region next week.
E-mail to a friend

-- CNN's Ben Brumfeld contributed to this report
All About Russia • Republic of Georgia • South Ossetia