PARIS, France (CNN) -- The chief of the French army resigned Tuesday after an accidental shooting at a military open house that left 17 people wounded.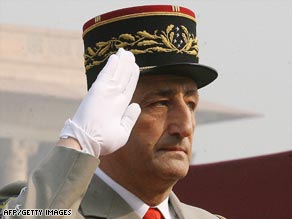 French Chief of Army Staff General Bruno Cuche salutes during a welcome ceremony in India.
President Nicolas Sarkozy has accepted the resignation of Gen. Bruno Cuche, the Elysee said in a statement on its Web site.
"The president ... as he has already stated, is closely following the various investigations now under way," the statement from Sarkozy's office said.
Seventeen people, including some children, were wounded by live bullets Sunday as a commando parachute infantry regiment demonstrated a hostage extraction exercise at a military open house in Carcassonne, France, in the country's southwest, according to the French military's Web site.
The soldiers in the demonstration were supposed to be using blanks, but one soldier shot live rounds that remained in his weapon after shooting drills, according to the French newspaper Le Figaro.
That soldier was suspended Tuesday and will appear before a judge later in the day, the newspaper said.
Defense Minister Herve Morin has called for a probe scrutinizing the procedures and rules governing the use of ammunition and the security provisions taken during public demonstrations of military exercises, a statement on his Web site said.
He also called for an immediate suspension of the use of blanks in any public military demonstration.
Brice Robin, prosecutor for Montpellier, said the shooting seemed unintended and that the soldier appeared to "have made a mistake while loading his gun," The associated Press reported.
."This act was absolutely not premeditated; I want to be clear about this point," the agency reported Robin as saying.
E-mail to a friend

All About France