(CNN) -- Americans and other foreigners were among those caught up in the bloodshed and chaos of the terror attacks in Mumbai, India, on Wednesday and Thursday.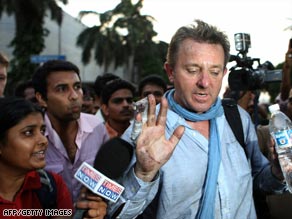 A foreign national held hostage by gunmen for nearly 24 hours is released from the Oberoi hotel in Mumbai.
At least six foreigners were among the 125 dead, police said. Targets included two luxury hotels, the Oberoi and the Taj Mahal, as well as a cafe popular with Western tourists.
A man told a local television station that he was in the Oberoi around 10 p.m. Wednesday when gunmen entered the lobby and began rounding up guests, asking for anyone with a U.S. or British passport and taking about 15 of them hostage.
Fire raged at the Oberoi, the scene of much bloodshed as explosions and gunshots rang out Thursday morning. Outside the Taj Mahal, screaming and fighting broke out as reporters scrambled to capture the chaotic scene.
Australian filmmaker Anthony Rose told CNN that he had just arrived at the Oberoi hotel when he heard gunshots in the lobby and saw a fellow Australian shot in the leg and then shot at close range in the head by one of the attackers.
He said that he and others in his film crew fled through back doors in the hotel to escape the shooters.
Among those killed in the two days of violence was British yachtsman Andreas Liveras, according to St. George's Hospital in Mumbai.
At least one French national is trapped in the Oberoi hotel, according to the French Foreign Ministry in Paris.
A woman from Nashville, Tennessee, was shot in the arm and leg by the attackers, who barged into a ballroom at her hotel, her husband told CNN affiliate WSMV.
Andi Varagona operates a holistic health clinic in Nashville and was in Mumbai for training, her husband, Santos Lopez, told the station.
According to Lopez, his wife called him and said, "We were ambushed and we were shot."
When he asked Varagona if she was all right, she told him she had been shot in the leg and arm and was at that moment being wheeled into surgery, Lopez said.
"My God, I cried more than I cried in my entire life," Lopez told WSMV. "I mean, it's just been so overwhelming with emotion. ... You tend to believe that things that happen in the world happen to other people, until it happens to you."

Watch hostages walk from the building looking dazed »
WSMV is reporting that Varagona came out of surgery Wednesday night -- a bullet removed from her leg.
An American woman, who was still inside the Taj with her husband, told CNN by phone Thursday that television feeds into the rooms had stopped and she did not know what was going on.
"We have water and we're hunkered down and patient and ready to wait it out," she said. "We're OK. Last night was a different story, but today we're OK."
The woman, whom CNN is not identifying so as not to disclose her location to the gunmen, said she heard gunfire outside her room Wednesday night and "a man with an American accent screaming for help."
Aparna Dash, an American who lives in Pennsylvania but is visiting Mumbai on business, was staying at the Oberoi hotel. She was on the phone with her husband, who was in the United States, when the first explosions rang out.
"She thought it was firecrackers and didn't think much of it," her husband, Biswa Dash, told CNN. "But then in the coming hours, she realized what was going on and all the people in the hotel began trying to get out, to rush down the stairs."
Aparna Dash had made it down to the fifth floor from her room on the 26th floor, her husband said, and found an American woman sitting on the stairs, dazed and crying. iReport.com: Are you there? Share your story and send photos and video
"They were telling [the woman] that she needed to get up and keep moving," said Biswa Dash, recounting what his wife told him. "She was crying and saying that there were all these people piled on top of each other and that the armed men had come at them just straight on -- without masks, without trying to hide their faces at all. Just charging at them with their ammunition and their AK-47s."
Indian Prime Minister Moanmohan Singh said the attackers were likely foreigners, but he did not name a country where he believed they were from. Officially, the Indian authorities are saying no one has claimed responsibility. A group called the Deccan Mujahideen took credit in e-mails sent to several Indian news outlets.
Authorities found 8 kilograms (17 pounds) of RDX, one of the most powerful military explosives, at a restaurant near the Taj, indicating that the attackers may have been planning more violence.
A woman whom CNN is only identifying by her first name -- Andrea -- spoke to CNN from Mumbai, where she is visiting for her brother's wedding. She is staying at a hotel a few blocks from the Taj.
She heard the explosions Wednesday and then immediately got a call from her brother, who lives in Hong Kong. He was worried, saying that he had heard reports of gunfire. "And we were like, 'Yeah, gunshots, we're from New Orleans, whatever,' " Andrea said.
A few hours later, she said, her brother called back and said, "This is a big deal, put on the TV."
"That's when we figured out what was going on," Andrea said.
"Over the course of the night we heard maybe three explosions, some emergency vehicles, sirens. For the most part the street was really quiet," she said. "We've been watching the news the whole time, just like everyone else."
She needed water, so she left her hotel and a person at a restaurant helped her, she said. She has since been in contact with the U.S. embassy and the family is moving the wedding.
E-mail to a friend