BEIJING, China (CNN) -- The first foreign office of the U.S. Food and Drug Administration opened Wednesday in Beijing after an influx of contaminated Chinese food and drug imports to the United States.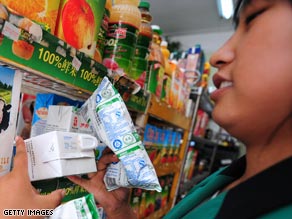 Chinese milk products were removed from shelves during the melamine scare.
The FDA said it also planned to open offices in the Chinese cities of Guangzhou and Shanghai in the next few days. Subsequent locations would include India, the Middle East, Latin America and Europe.
FDA employees would inspect products and liaise with Chinese officials and groups, the agency said.
The United States intends to help the Chinese government improve its regulatory systems for exports, according to a recent statement from the U.S. Department of Health and Human Services, the FDA's umbrella agency.
"Establishing a permanent FDA presence in China will greatly enhance the speed and effectiveness of our regulatory cooperation and our efforts to protect consumers in both countries," the HHS statement said.
Last week, the FDA began blocking the import of milk products from China in an effort to ensure that products potentially contaminated with melamine did not enter the U.S. market. Melamine is used in the manufacture of plastics and fertilizer.

Watch the FDA office being opened »
Other imported products such as cereals, snack foods, cheese, ice cream, carbonated drinks, candy, puddings and pet foods have also been found to contain the toxin, according to the agency's Web site.
The FDA said it learned in September that more than 53,000 infants in China became sick after consuming infant formula containing melamine. Nearly 13,000 were hospitalized and at least four died of illnesses involving the formation of kidney stones and related complications.
This week, HHS Secretary Mike Leavitt and FDA Commissioner Andrew von Eschenbach joined China's minister of health, Chen Zhu, in a workshop on food safety. According to HHS, they focused on policy and government reforms.
"The government should not just respond to the incident but find the root of it," Chen said in a news conference Wednesday in Beijing.
Earlier this year, the FDA discovered that contaminated heparin, a blood thinner manufactured in China, had been linked to dozens of deaths. The heparin was laced with a contaminant that mimics real heparin, significantly lowering the price.
Leroy Hubley of Toledo, Ohio, testified before a U.S. House subcommittee last spring about losing his wife of 48 years and his son after they were treated with the contaminated drug. Both had undergone hemodialysis at a Toledo clinic and were given heparin, which is widely used during open-heart surgery and dialysis, Hubley told The Toledo Blade.
Baxter International Inc. later recalled the drug.
"Now I am left to deal not only with the pain of losing my wife and son, but anger that an unsafe drug was permitted to be sold in this country," Hubley was quoted as saying. He also spoke this week to CNN.
He was among several Toledo residents who filed wrongful-death lawsuits against the drug company.
Last year, the United States imported about $856 million worth of drugs from China, and $4.4 billion worth of food.
"Because the world has changed a great deal, what we eat, medicines we take and products we use in the United States come from other countries," Leavitt said at Wednesday's news conference in Beijing.
"This year we will import nearly $2 trillion of goods. To give you a sense of proportion, that is roughly four times the entire economy of Brazil," he added.
Leavitt said U.S. President George W. Bush had appointed 12 members of his Cabinet and two agency heads to an interagency task force on food safety.
E-mail to a friend