WASHINGTON (CNN) -- Pakistan lashed out at the United States and the Afghan president spoke with President Bush after U.S. military strikes that leaders of the two nations say killed scores of civilians.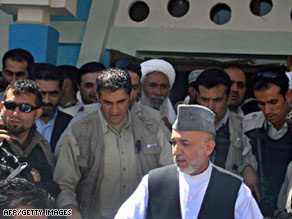 Hamid Karzai, front, arrives Thursday in a village in Herat province, reportedly the site of a U.S. attack.
The Pakistani foreign minister accused the United States of perpetrating "cowardly acts against innocent civilians."
U.S. military officials agree the attacks took place, saying they were targeting al Qaeda and Taliban militants, but disagree on the number of civilians killed.
It is rare for the U.S. military to send troops into Pakistan's lawless tribal region, where al Qaeda and Taliban insurgents have established bases. Militants launch attacks on Afghanistan from the mountainous region.

Watch angry reaction from Pakistan »
U.S., coalition and NATO forces in Afghanistan generally stay out of Pakistan except when they pursue high-value targets or insurgents who slip through the porous border.
According to a senior U.S. official, U.S. helicopters dropped troops Wednesday in the village of Angoor Adda in South Waziristan, which borders Afghanistan.
The operation was launched quickly, without a formal blessing from Pakistan's government, said the official, who spoke on condition of anonymity because of the sensitive nature of the issue.
He said the U.S. launched the operation only after it had sufficient intelligence to send troops into a potentially hostile area.
Don't Miss
The official would not say if the strikes targeted a specific person, but officials said nothing indicated troops were targeting al Qaeda leader Osama bin Laden or his deputy, Ayman al-Zawahiri.
Local media reports said the troops came out of a chopper and fired on civilians. Pakistan military spokesman Maj. Murad Khan said Thursday that 15 civilians were killed.
Hours after the raid, Pakistan summoned the U.S. ambassador in Islamabad to issue a "strong protest."
Pakistan also instructed its ambassador in Washington "to make a strong demarche to the U.S. authorities," according to Pakistani's Foreign Minister Makhdoom Shah Mahmood Qureshi. A demarche is the diplomatic term for a position statement from one government to another, and is often a formal protest.
"Such cowardly acts against innocent civilians not only constitute a violation of the international humanitarian norms and the principles of the United Nations Charter but also fuel the fire of violence and hatred," Qureshi told lawmakers Thursday.
The Pentagon has refused to comment officially, but some defense officials acknowledged U.S. military activity inside Pakistan. None of the officials confirmed any civilian deaths.
White House spokeswoman Dana Perino refused to comment on the military operation when asked about it at a Thursday news conference. She stressed the U.S. position to work "in cooperation, coordination, with the Pakistanis to help go after the Taliban, which is a common enemy."
The United States has a "very good" but "complex" relationship with Pakistan, said State Department deputy spokesman Robert Wood on Thursday.
"Pakistan is an important ally of the United States in the war on terror. We will continue to work with Pakistan. It's not an easy situation," he said.
"The government of Pakistan takes the threat from the Taliban and al Qaeda very seriously, as we do. And we are looking at ways we can improve, we can enhance our cooperation in defeating these extremist elements that are operating ... not only in Pakistan but across the border in Afghanistan," Wood added.
NATO's International Security Assistance Force has denied involvement in the attack.
The senior U.S. official said American troops attacked three buildings where they believed top suspects were housed. They believe the targets were responsible for attacks on U.S. and coalition forces in Afghanistan.
There may have been women and children in the vicinity, but when the mission began, "everybody came out firing" from the compound, the official said.
Coalition and NATO forces have become frustrated with Pakistani leaders, saying they have not been proactive enough against militants, a claim denied by Pakistan -- a nation in political flux after the resignation of President Pervez Musharraf.
Also, Karzai spoke to President Bush on Wednesday about a separate airstrike on August 22 that killed a disputed number of Afghan civilians in a province that borders Iran, according to the White House.
Afghanistan and the U.N. Assistance Mission in Afghanistan concluded that 90 civilians were killed in the strike in the western Afghan province of Herat. But the U.S.-led coalition in Afghanistan said 30-35 Taliban militants and five to seven civilians were killed.
"President Bush told President Karzai that he grieves any time innocents die," White House national security spokesman Gordon Johndroe said during a Wednesday videoconference.
Afghan ministers are demanding a review of international troops operating within Afghan borders.
E-mail to a friend

CNN's Barbara Starr contributed to this report.
All About Pakistan • Afghanistan • The Pentagon